Tamiya 1/32 Spitfire Mk IX
By Luc Janssen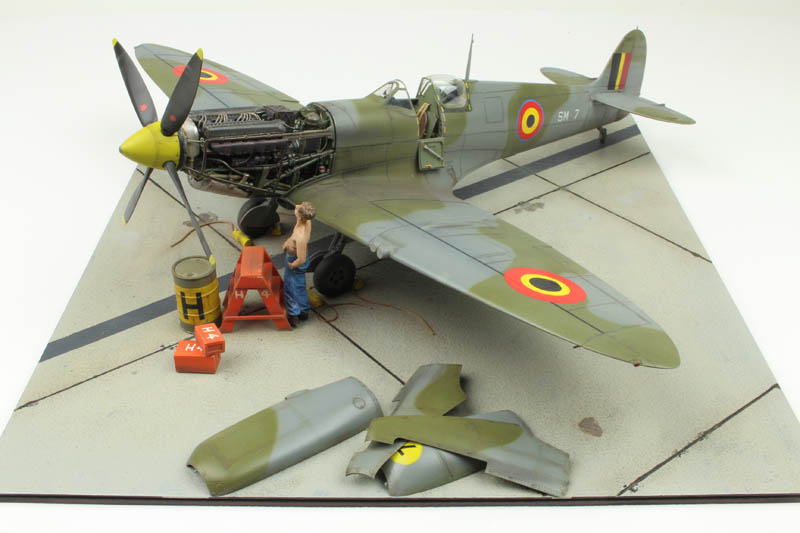 With this model, I wanted to represent a Belgian Air Force (BAF) Spitfire Mk IX as they looked like after their first overhaul, without guns. With information I received from BAF-connoisseurs Daniel Brackx and Robert Block, I was able to make such a Spitfire.
The Tamiya kit is really excellent, so I only had to add some detail to the cockpit area. As I opted for a nose without engine panels, I had to show some more detail and I added the ignition cables and some supplementary wiring, etc.
To give the base a little dynamism, I added the wheel chocks and some equipment from the spare box. A young mechanic was painted by IPMS member Ben Pooters.
---
After Market Sets
The mechanic figure is the German Tank Crewman WWII (with a different head) from EVOLUTION MINIATURES. For the landing gear I used the set "Spitfire 5 slot mainwheels" from BarracudaCast.
Paints
With the first overhaul, BAF Spitfires received a camo consisting of Ocean Grey on the under sides and Ocean Grey/Dark Green on the upper sides. The Dark Green had a more Olive-Green shine, so I prepared a mix of these colors.
As usual, painting was done with ModelMaster paints. I applied a wash with strongly diluted enamel paints and weathering was done with pastel powders.
Decals
For the cockpit I used the upgrade set from Barracuda and the other decals came from Daco Products.
References
Spitfires and Yellow tail Mustangs - HIKOKI Publications
Spitfire MK IX & XVI Engineered – Paul H. Monforton
Kit Magazine – several issues
Daniel Brackx and Robert Block
The Internet
---
PS: for questions or comments go to: lucjanssen32nd.com.
© Luc Janssen 2018
This article was published on Thursday, December 06 2018; Last modified on Thursday, December 06 2018