Kitty Hawk 1/32 North American T-6 Texan
By Luc Janssen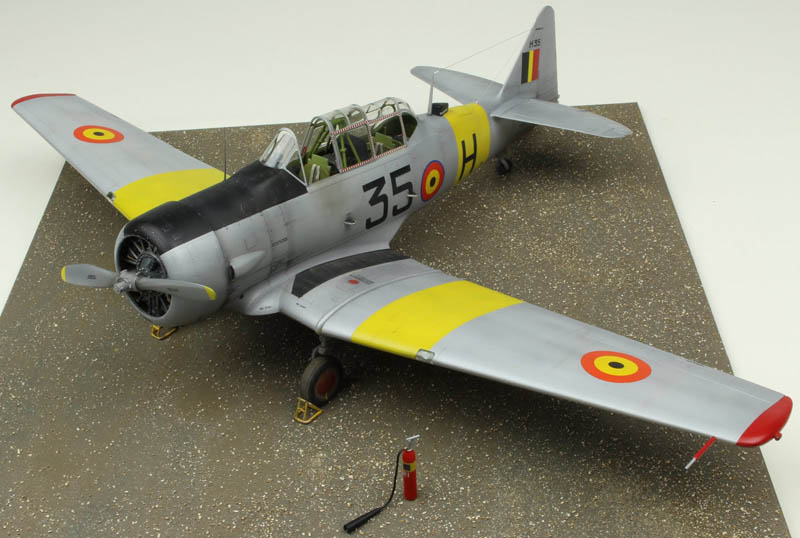 With this model, I wanted to represent the Belgian Air Force Texan flown by Sgt Jim Van Roy, nicknamed Jim La Mort, during the battles in Congo in July 1960.
The model was built mostly out of the box, but I added some supplementary wiring, knobs and handles in the cockpit. I also changed the "sit" of the airplane by adjusting the length of the tail wheel and the length, the oleos and the position of the main landing gear. The ignition cables on the radial engine were added, together with the steering cables of the rudder. The boarding steps were also corrected.
---
As I like the clean lines of the Texan, I decided to add the attachment points for the armament, but not the armament itself.
The Belgian decals in the kit are not correct, so I used decals from the spare box. The aircraft numbers were made by decal expert Danny Coremans from Daco Products.
Paints
Painting was done with Dull Aluminium from Alclad2 Lacquers and ModelMaster Paints. The weathering was executed with pastel powder.
References
L'Appui-feu de Baka by Daniel BRACKX & Jean Pierre SONCK
Squadron/signal publications no 94 – T-6 Texan
Kit Magazine No 179 + 180 + 181
The Internet
---
PS: for questions or comments go to: lucjanssen32nd.com.
© Luc Janssen 2018
This article was published on Friday, August 17 2018; Last modified on Friday, August 17 2018