HpH Models 1/32 Catalina
By Kent Karlsen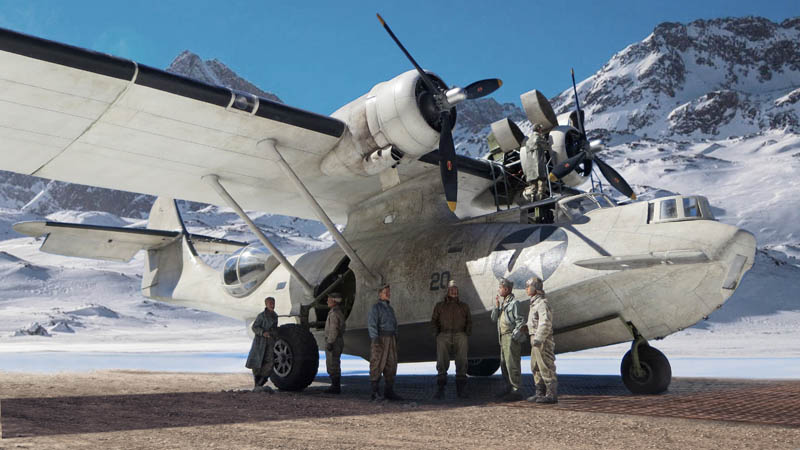 PBY-5A Catalina (Cutaway) - HpH 1/32 - Resin & fiber glass kit.
Subject: Consolidated PBY-5A Catalina Flying Boat - Bureau number 7277/20 of VP-93 US Coast Guard. This Catalina was assigned to the Greenland Fleet Air detachment at Bluie West One (Narsarsuaq) during WW2.
What has been called 'The Ice Cap Story' was a grim and drawn out fight with Greenland's inland ice that lasted from 5 November 1942 to 18 May 1943, and had a high price in both aircraft and lives of airmen.
On November 9 a B-17 PN9E flew into a visual "white-out" during a search and rescue operation over the Greenland icecap. During the whiteout, the left wings struck the ice. The plane went down and broke into two pieces. The crew survived, although some were badly injured. In the following months numerous attempts were made to rescue the men by ground parties, but they all failed. A Norwegian native, Lt. Col. Bernt Balchen, who was in charge of the search and rescue operations of the USCG, finally proposed the Navy to have a PBY belly-land on the ice cap and evacuate the airmen. It was a bold idea, and one not without considerable risk, for nobody really knew whether the PBY's hull could withstand this type of battering. From February-April 1943, Bernt Balchen and Pilot Lieutenant Bernard W. Dunlop belly-landed a PBY-5A three times on the Greenland ice cap to rescue the downed crew of the B-17. Both were later awarded the Distinguished Flying Cross for this heroic act under very difficult circumstances.

The epic story of survival and bravery is available in the book 'Frozen in time' by Author Mitchell Zuckoff.
Finished Pictures
---
Interior Pictures
---
Modelling Pictures
---
HpH's PBY-5A Catalina kit really is top notch. It contains everything you will need, to build a very nice model of this iconic amphibian. The interior detailing of the resin parts are awesome. Included in the kit are photo etched parts from Eduard, brass barrels for the machine guns and HGW seatbelts and other printed textile parts + decals. You will however, need a lot of patience and some skills working with super glue and epoxy.
This article was published on Tuesday, June 26 2018; Last modified on Tuesday, June 26 2018