Airfix 1/24 Hurricane Mk Ia
By Olivier Barles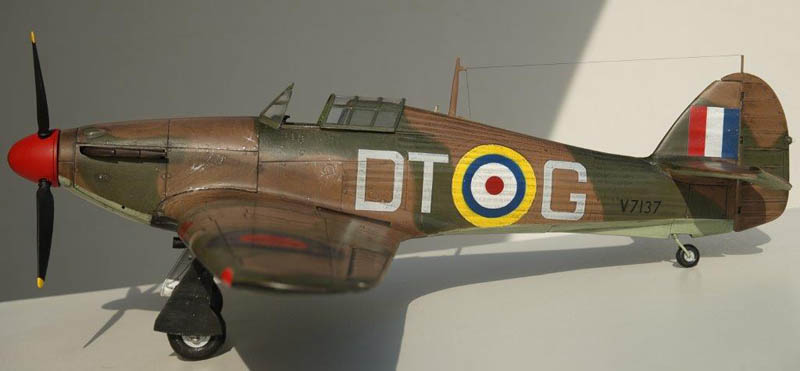 Here are a few photos of a "very old" Airfix 1/24 scale Hurricane I had built for my Dad 30 years ago.
I could recover this model recently, but it was in very poor condition - not to say that my skills back to those times were not the same than the skills I have today.
I mostly did a repainting job, applying new handmade markings as well as weathering. For that, I tried to remove as much as I could the old camouflage coat as well as former roundels, code letters and numbers, but that was not easy because at the same time, I wanted to keep the original lines of engraving and rivets.
Then, I had to insert metallic tubing to re-enforce the undercarriage - plastic when getting old has indeed a certain tendency to become much more fragile as I could see it and by simply pushing the sliding part of the canopy into its guide rails, that ended up in a little crack on its right side.
I did not want to go through a deep "dismantling - reassembling job", my main objective being to have it exposed as it used to be before, ASAP.
---
© Olivier Barles 2018
This article was published on Wednesday, May 23 2018; Last modified on Wednesday, May 23 2018