Verlinden 1/16 B-17F Gunner's Position
By Russell Bucy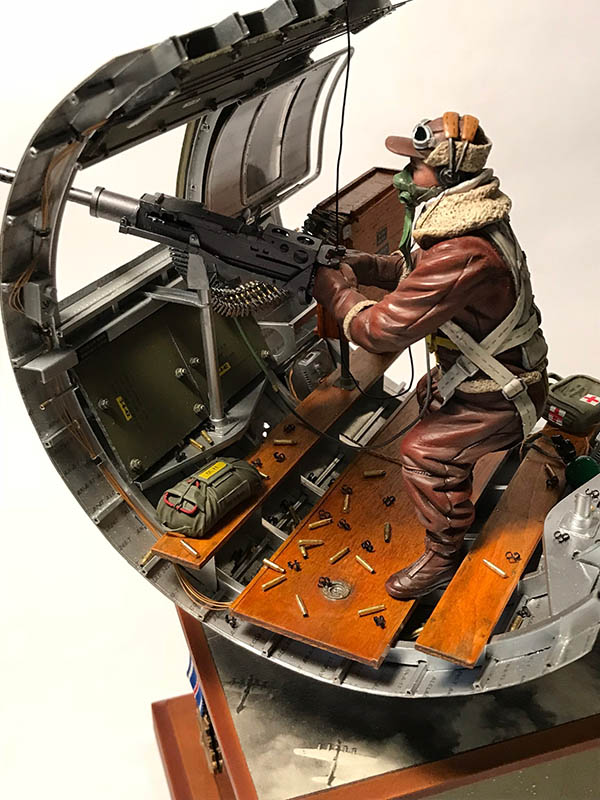 The Kit
I was given Verlinden's 1/16 scale resin kit—Bandits, 2 O'clock!"—B-17 waist gun vignette by the owner of a local hobby shop where I worked after I retired. I was intrigued with the vignette, but disappointed in the kit, which except for the figure, is a poor representation of a B-17F interior. There is so much more inside the real aircraft waist gun position and the resin fuselage section was warped and inaccurate for a B-17F, being way too thick to represent the skin of the real thing. It also only represents half of a right waist gunner's window, with a very early .50 Cal. ammo system, and lacked the intricacies of the interior of the real aircraft. In 2015 I set out to "improve it" by scratch-building a new fuselage with added details.
Improving the Model
Basic Structure: After lots of research on real B-17Fs, I decided to rebuild the kit into a more accurate model using brass sheet and tube. The kit comes with two large supports for the heavy resin structure, but I I felt I could do better by "suspending" the new brass structure on one thin main post, "floating" it above a decorative display base with photo images of B-17s in flight. I used a 1/4 inch steel-threaded rod and brass tube for the support. I annealed a sheet of .07mm thick brass and several lengths of K & S rectangular brass tube/channel for the ribs and stringers on my kitchen stove. I then cut the brass parts to size and bent them around a #5 coffee can to get the basic shape of a 1/16 scale B-17 fuselage. Using lots of clamps, the stringers and ribs were soldered together, and onto the brass sheet after cutting window and wind deflector openings. Then the assembly was soldered to a brass nut screwed onto the steel rod. Soldering for the main assembly was accomplished with a Bernz-O-Matic hand torch and lots of clamps. Later, an American Beauty resistance soldering unit was used to add various details.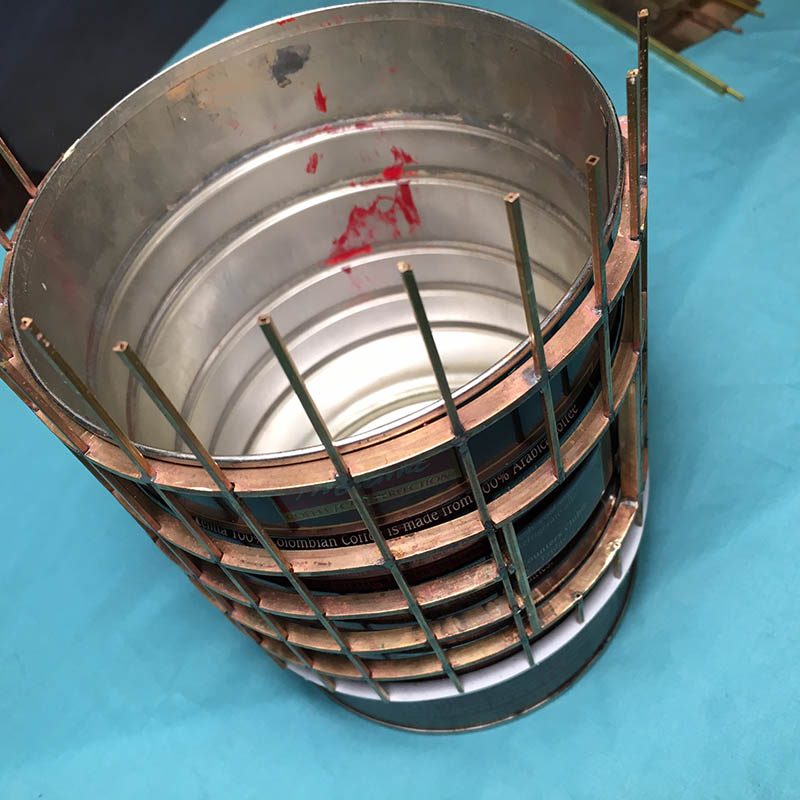 The Gun: Not happy with the kit .50 Caliber, I scratch built a new one using K & S rectangular brass channel and a few of the Verlinden details for the new gun. When the bolt is forward on the .50 Cal., you can literally see through the real gun when viewed from the side, something lacking in the solid resin kit part. I also decided to change the model to a "left hand" waist position from the kit's right hand position.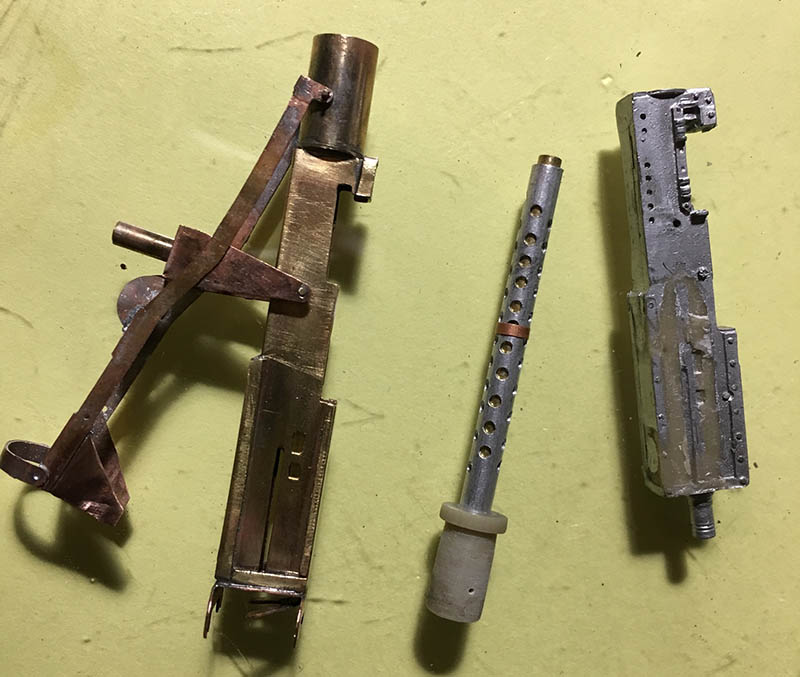 Other Details: After the fuselage construction was done, I built a new sliding gun hatch, window frame, and wind deflector in brass, with a window made from acetate. The internal positioning of "fixtures" of B-17Fs varied between aircraft, depending on crew and Squadron preferences, but floorboards, oxygen systems, electrical wiring, armor plate and ammunition systems would have been present. A central floorboard and two "steps" were constructed from stripwood laminated to styrene sheet (to keep the wood from warping or splitting over time). Brass sheet was cut, bent and soldered into place for gun mount pedestals and window sills. The kit comes with a 100-round ammunition magazine rack for one magazine, but in reality the rack had space for two magazines, so a new rack was constructed. These older racks were frequently left in place after new ammo-belt boxes were installed. Combat action showed the original 100 round magazines to be unwieldy in use, so Theater Air Depots replaced the magazines with wooden boxes of various types which held 600 rounds of linked ammo. I constructed a 600 round box from sheet styrene and a thin wood veneer, based on a photograph found on line. I also constructed an oxygen line, instruments, and a "walk around" oxygen bottle and rack. An "Aeronautic First Aid Kit" and suit heaters were made from putty, brass, beading wire and styrene. Armor plate was constructed from styrene with Grant Line nut/washer castings. Overhead flight control cables were made from stainless steel wire and brass tubing.
Paint and Decals: The interior of early B-17Fs were left unpainted from the radio compartment to the tail gunner's position to save weight and time during construction. The interior and exterior were primed with several coats of Floquil's Bright Silver. The interior decals were printed to represent the markings found on raw aluminum sheet with "Alcoa - Alclad" logos and the thickness/weight ratings. After the decals were in place they received a thin "overcoat" of Alclad polished aluminum to "blend" them into the "aluminum" skin. The exterior received rows of different sized Archer rivet decals, positioned and sized based on photographs. The exterior was painted with two coats of Gunze "Mr. Color" olive drab and neutral gray lacquer. Before painting, I added three battle damage "holes" at the top and bottom of the fuselage. I printed the warning and informational decals (there are over 200 individual decals, including the Archer rivet strips for this model), on my HP 8600 printer using Walthers decal paper. The key to using a bubble jet printer for decals is to coat the decal with a flat coat before printing. This provides the printer ink something to "bite". When dry, over-spraying with Micro-Scale decal solution "fixes" the color ink. The exterior lettering, kill markings, and partial star on the fuselage are painted decal paper cut to shape.
Final Details: The stock kit figure is posed in a dramatic but ridiculous "pointing" stance (who is he pointing for? And the .50 can't be fired accurately with just one hand either). So the figure was cut apart and repositioned into a more believable pose with both hands firmly on the gun, waiting for those "109s and 190s" to come around. I used acrylics, enamels, and oils to paint the figure. Headset and throat mic wiring are copper motor windings, while the commo wire is copper wire from the kit, as is the rubber oxygen supply hose. An intercom control box was constructed from bits of styrene, as were the controls for the flight suit heaters and connectors for the commo wire. The grills for the suit heater control rheostats are left over photo etch from a 1/350 model ship radar and styrene card. Electrical wiring is tan beading wire passed through brass tube retainers soldered into place during the construction process. A 1/32 A-10 Thunderbolt 30mm GAU detail set provided a suitable 1/16th scale .50 "flexible" ammo belt chute, while rounds of Aber 1/16th Scale .50 Cal. ammo and links were soldered together for the ammo belt (linking the belt together with the individual links provided by Aber in a long run proved impossible, so the rounds were slipped into appropriate sized Albion brass tube cut to length, and soldered together for a continuous run, while the Aber links were formed and scattered over the floor as expended links). Remaining Aber rounds were modified by cutting the "pointy end" off and drilling out the casing for expended rounds, along with the resin rounds that came in the kit.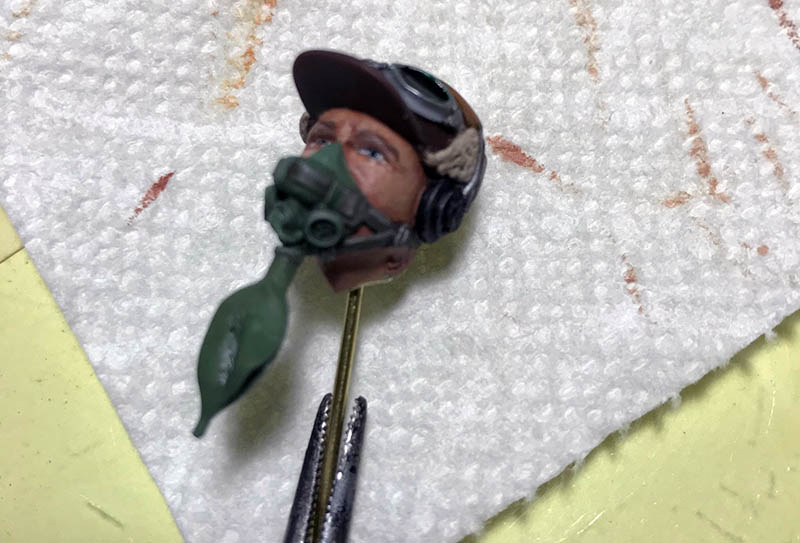 The Base: I mounted the model on a sculpted presentation base, with an aerial photo of B-17s on a bomb run, and the nose art from three famous B-17Fs: "Memphis Belle" with 25 combat missions; "Eight Ball" with 47 missions; and Knock-Out Dropper with 75 missions. A miniature Distinguished Flying Cross and name plate were sourced from my local Air Force Base craft shop at McChord Field WA.
---
Conclusion: The model took about 300 hours to build, spread over several years, including many hours of research. Verlinden's large scale model needs a lot of work to get accurate, but it was a fun project to complete. Some of the details were "compressed" to get them into the vignette space, and as such, it doesn't depict any particular B-17F. It was built to represent all of the first 300 B-17Fs and by happenstance, was finished just in time to commemorate the 75th anniversary of the Memphis Belle's last mission on May 17th 1943, and the roll-out celebration of the newly restored Memphis Belle at the USAF Museum at WPAFB Ohio on May 17th 2018. The model received a first place award in Aircraft Dioramas at the Seattle IPMS Spring Show in April 2018.
References
"The Man Who Flew the Memphis Belle"; Col. Robert Morgan USAF (Ret.), Dutton-Penguin, 2001
"Pride of Seattle--The First 300 B-17F's"; Steve Birdsall, Squadron Publications, 1998
"B-17 Combat Missions"; Martin Bowman, Elephant-Metro Books, 2007
"The Mighty Eighth"; Roger Freeman, Doubleday, 1970
"B-17E & F Flying Fortress"; Charles D. Thompson, Profile Publications, Doubleday, 1968
"B-17 Flying Fortress"; Roger Freeman & Rikyu Watanbe, Crown, 1983
The Museum of the USAF, Memphis Belle Restoration Files, WPAFB, Ohio 2018: http://www.nationalmuseum.af.mil
The Seattle Museum of Flight's B-17F "Boeing Bee", 2018: http://www.museumofflight.org/aircraft/boeing-b-17f-flying-fortress
© Russell Bucy 2018
This article was published on Thursday, May 03 2018; Last modified on Friday, May 04 2018