Trumpeter 1/32 Lockheed P-38J Lightning
By Luc Janssen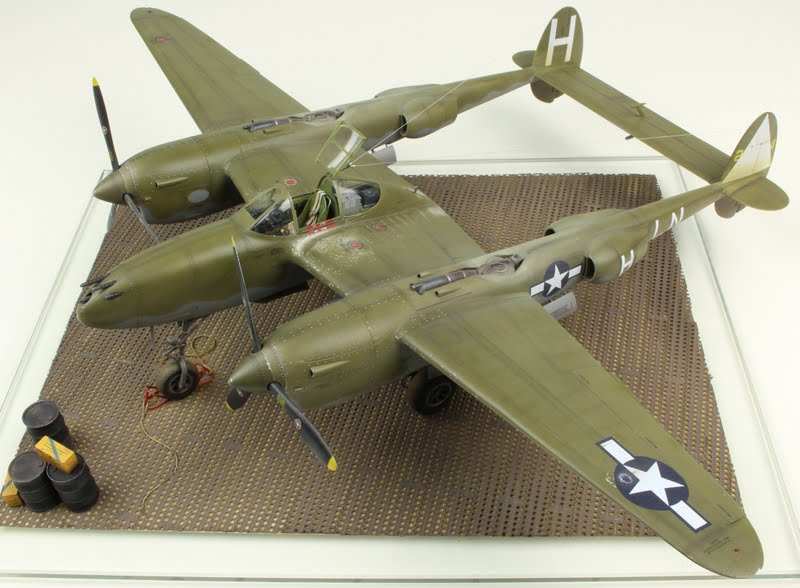 Although many less flattering articles have been written on the Trumpeter kit, I always liked the P-38 and I wanted to build one. I changed the P-38L into a P-38J and opted for the standard camouflage of Olive Drab for the upper surfaces and Neutral Gray for the undersides.
I did not install the engines, but gave some supplementary detail left and right by adapting the wingtips, the rear radiator doors and closing the flaps for the intercoolers and the oil coolers. For the cockpit, I used the radio compartment of the cockpit set from Grand Phoenix Productions and detailed the other parts from the kit. The actuators of the flaps were scratch built and the nose landing gear strut was foreseen of a stainless-steel oleo and some supplementary detail. In the wheel wells I added the plumbing, but unfortunately this cannot be seen once the model is finished and placed on a base plate.
The tires came from an aftermarket set, but I do not know from which company!
---
Paints
Painting was done with Model Master paint and the weathering was executed with pastel powders.
---
References
Aero Detail 28 Lockheed P-38L Lightning
MMP Books Lockheed P-38J-L Lightning
P-38 Lightning in detail and scale
Osprey Aviation Lockheed P-38 Lightning
Osprey Aircraft of the aces P-38 Lightning Aces of the Pacific and CBI
Ouest France Lockheed P-38 Lightning
Squadron/Signal publications 25 P-38 Lightning in Action
AJ.Press 69 Lockheed P-38 Lightning
The Internet
PS: for questions or comments go to: lucjanssen32nd.com.
© Luc Janssen 2018
This article was published on Monday, March 19 2018; Last modified on Monday, March 19 2018