Zoukei-Mura 1/32 J7W1 Kyushu Shinden
By Suresh Nathan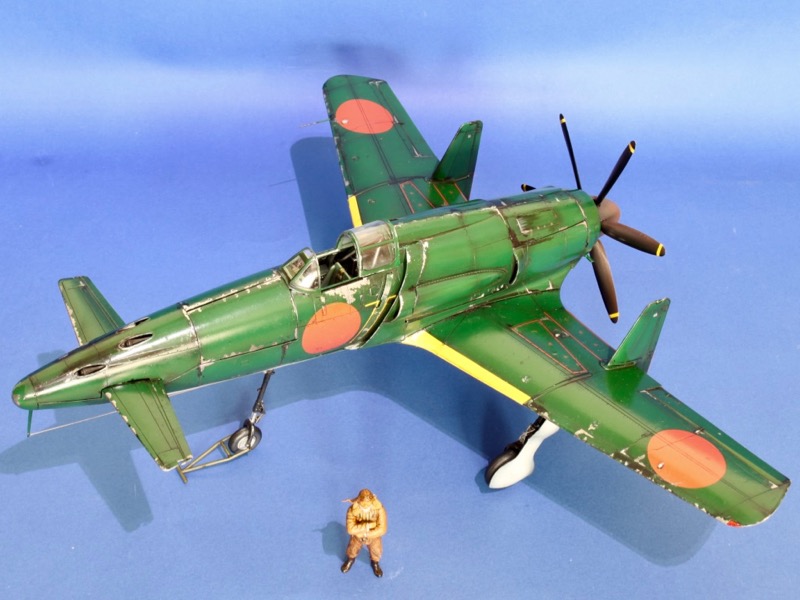 Introduction
The Kyūshū J7W1 Shinden (Magnificent Lightning) fighter was developed by the Imperial Japanese Navy as a short-range, land-based interceptor to respond to the Boeing B-29 Superfortress raids on the Japanese home islands. It was armed with four forward-firing 30 mm cannons in the nose. The Shinden was expected to be a highly maneuverable interceptor, but only two prototypes were finished before the end of war. A jet engine–powered version was considered, but never even reached the drawing board.
Model
For a subject that barely made it off the drawing board the Shinden has a remarkable number of models in 1/72 and 1/48 as well as other scales from all the major manufacturers including Hasegawa and Tamiya dating to the sixties. In 1/32 there were I.D. Models and Scratchbuilder's but both have been discontinued. Enter Zoukei-Mura in 2010 with this model, their flagship offering as (Super Wing Series) SWS No.1. These are expensive and Zoukei-Mura offers further upgrade parts but really they just aren't necessary unless you like the feel of turned metal gun barrels , photo etched grills and metal undercarriage (who wouldn't?). They even offer a jet pack to swop for the beautifully detailed radial engine. In more recent times the original military model has been discontinued and the more cheesy "Ah My Goddess" version is for sale. I picked mine up in Japan and was a little scared that I'd gotten the wrong one (there are no instructions in English). The shopkeepers in Akhibahara, Japan obliged by opening it up and between hand gestures and decal sheets we realised that both versions are included in the box (thumbs up all around!).
---
The model is not an easy build. I've been modelling now for more than 40 years and have a decent amount of experience but I found it difficult. The parts all line up well but the joints on the small parts are not securely engineered like you'd expect in most Japanese kits. The parts are moulded in white for the airframe, metallic grey for the engine and interior and black for the engine tops and undercarriage. This is really nice and even if you did not paint it, it would still look very decent. The problem here was the plastic used for the metallic grey and black parts have a certain oily consistency almost like the rubber used in tracks for AFVs. So the parts kept falling off and frustrating the build. Still eventually it all came together.
I have no doubt that the part alignment is first class. Panels pop off and on. I do a lot of scratch building and I could not replicate some of the work here so I know a lot of time was spent here by the model engineers. Still, because there are so many panels, mild sub-millimeter malalignments do lead to gaps which need to be filled. With a bit of adjustment and patience gaps should not need to form.
If I would re-do one thing this would be the pilot seat. It is embarrassingly thick. One can easily make a better one with folded brass sheet and Zoukei-Mura provides one in their photo etch set.
Wiring to the engine compartment was made from scratch. The ignition cables were put in after assembly but I would recommend doing it while making the engine if you can get over the frustration of the parts falling off. Cyanoacrylate would be a reasonable alternative but one needs to be cautious about using it in a kit of this complexity. I minimised my use of it.
There is a lot of hidden detail on this kit. You wonder why they would bother making stuff that can't be seen. One can only surmise it comes from pride.
Painting
As a rule I never pre-paint parts on a sprue. With this kit however with the amount of interior detail given, it does help the process along a lot. That does add to the frustration of weak glue joints.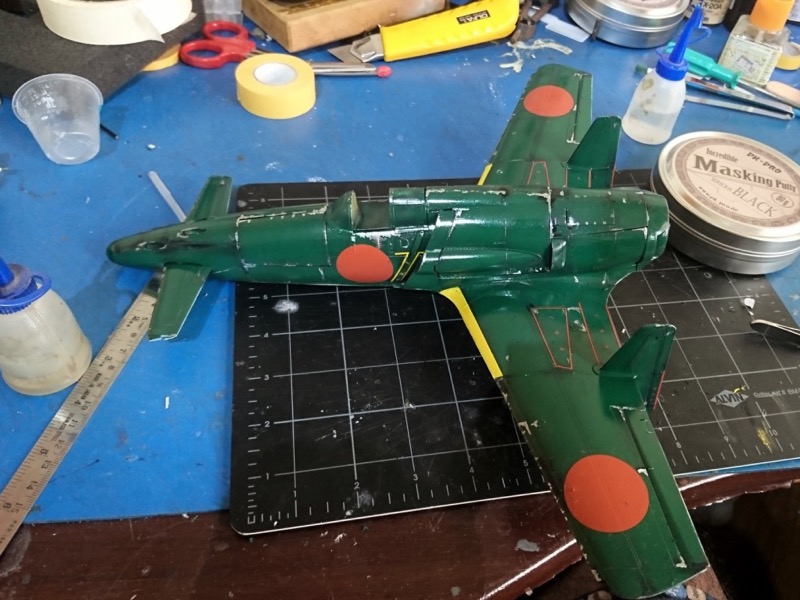 The version of the kit I got was the Anime "Ah My Goddess" version but I did it in the military version. One sees a lot of fictitious paint jobs on the internet but I wanted to stick to the original. Flaking was done with Alclad chrome undercoat with masking fluid and Humbrol Brunswick Green topcoat. The decal carrier film actually peels off the decal and this came as a shock at first but it does enhance the overall look of the finish. Pictures of the real Shinden show that flaking was minimal probably because it was touched up regularly and I tried to show that in the model.
Figure
This is Sakai Saburo from Master Box Ltd. I don't know if he was ever near a Shinden. It was painted with oils on acrylic.
---
Conclusion
Despite my reservations, this is a beautiful model and one I'll spend hours looking at. Evra so often a kit comes along that captures the 'magic of modelling' for me like the Tamiya 1/25 Tiger and 1/35 M113 had in the past. I highly recommend this kit and am looking forward to the Pfeil, Horton and Ta 152 I have in my stash!
© Suresh Nathan 2017
This article was published on Sunday, September 24 2017; Last modified on Sunday, September 24 2017