Hasegawa 1/32 P-40E
By Ben Schwab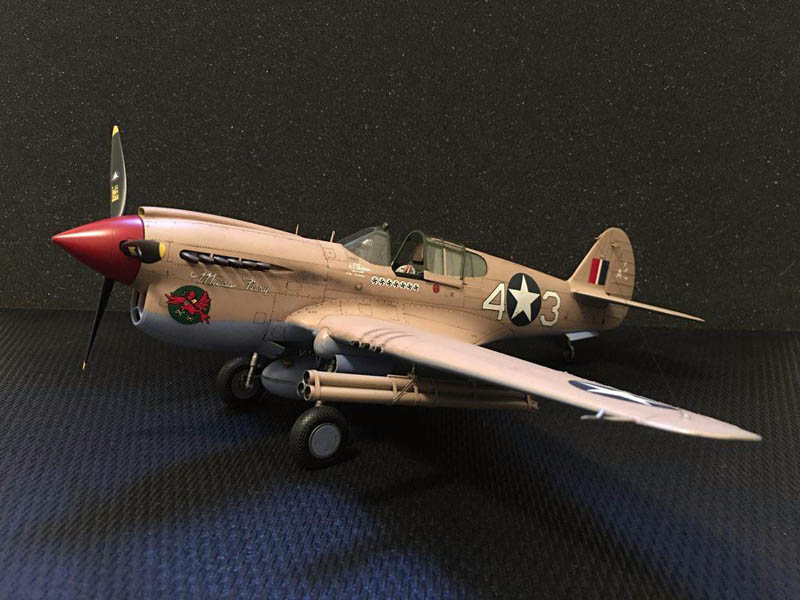 In order to help me with the goal of a quick, stress-free build, I decided to keep things as basic as possible. Only AM I used was the CMK wheel wells, RB seatbelts, Eduard wheels and Zotz decals. And since the Eduard P-40 bazookas were on sale, I figured why not? Even though it seems that their use on the P-40 was limited at best!
On that note, after deciding that I wasn't going to go down the paint mask route, I had a hard time finding a scheme for a P-40E that I liked since I couldn't find the Barracuda set for this a/c. So I went with the North African P-40 set from Zotz with the understanding that those are for an F and not an E. I picked Miss Fury because the paint scheme was easy (again, in line with the goal of finishing!). I used MRP for the US Sand and US Azure Blue and Gunze for the interior colors and the wheel wells which are also not accurate as best as I can tell!
So, in contrast to Martin and Blackbeard's recent contributions which are clearly well researched, accurate and of top notch quality, I present mine which should basically be viewed as a "what if?" build. Even so, I'm happy with it and it was a wonderful, easy and quick build. I picked up another one of these kits a while ago and will endeavor to make that one much more accurate, probably using the GM P-40F conversion kit to make Sweet Bets.
---
© Ben Schwab 2017
This article was published on Thursday, August 03 2017; Last modified on Thursday, August 03 2017