Trumpeter 1/32 A-7E Corsair
By Luc Janssen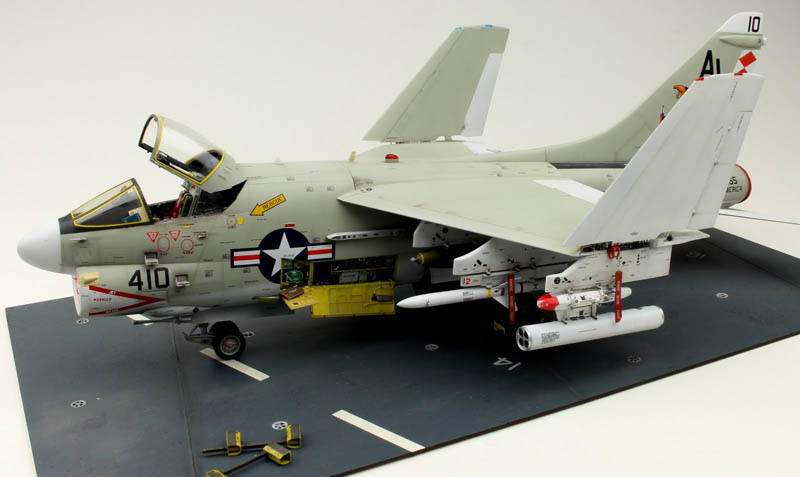 With this model I wanted to build an early A–7E as operational during the final months of the South East Asia conflict. The Trumpeter kit represents a late style A–7E, so I had to make the necessary adjustments. Early A-7Es did not have the W-formed strips on the vertical stabilizer or the long built-on fairings on both sides of the fuselage.
The model was built using after-market kits for the cockpit, the electronic bays, the wheel bays and the intake. Supplementary detail was given to the mechanism of the wing folds, the boarding steps and the navigation lights. The intake and exhaust covers were scratch built.
Painting was done following the Navy paint scheme of the period.
---
Accessories
Aires - A-7 E Corsair II Early – Cockpit + Wheels Bays
Zactomodels – A -7 correction set
Eduard Brassin – LAU-10/A Zuni
PWMP Go Navy – Old style wheel chocks
Decals
Cutting Edge – A-7 E VA-86 Sidewinders
Icarus Decals – A-7 E Corsair II – Stencil Data
References
In Detail & Scale - A-7 CORSAIR II
Squadron/signal Publications No 22 – A-7 Corsair II in action
Squadron/signal Publications No 44 Walk Around - A-7 Corsair II
Concord Publications Company – SLUF A-7 Corsair II
OSPREY AIR COMBAT – Vought A-7 Corsair II
Famous Aircraft of the USAF and USANG – LTV A-7D/K CORSAIR II
KOKU-FAN ILLUSTRATED No 22 – U.S. NAVY JET ATTACKERS
Motorbooks International – SUPER CARRIERS + SEVENTH FLEET SUPER CARRIERS
Motorbooks International - SUPERBASE 8 + 15
The Internet
PS: for questions or comments go to: lucjanssen32nd.com.
© Luc Janssen 2017
This article was published on Tuesday, July 25 2017; Last modified on Tuesday, July 25 2017