Trumpeter 1/32 Grumman F6F-3 "Hellcat"
By Olivier Barles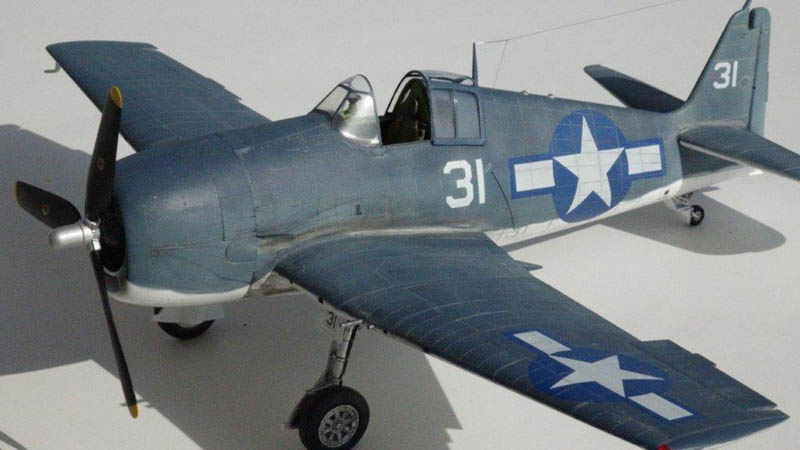 A few photos of the Trumpeter Hellcat I've just finished.
It has been far from a simple and uneventful build... Contrary to what I expected after I had built the Hasegawa Hellcat at the same scale also that needed lots of attention and corrections, I encountered many issues during the building process (no good fit for some parts, incorrect shape for some others, etc.).
Indeed, as all the reviews mention, among a few problems there is a something wrong with the back of the fuselage that looks too rounded and the canopy that has an inappropriate shape: base is too large and the windscreen stiles are too well-rounded as well.
It really affects the general shape of the model and makes this Hellcat "having a weird look".
If nothing can be really done to correct the fuselage, I used an old vacu-formed windscreen I had in my leftovers and I reshaped as much as I could the sliding part of the canopy under hot water.
In the end, the silhouette of this Hellcat looks more or less OK.
Finally, I decided to represent "an old F6F-3" still in service by early 1945 (and still wearing the 3 shades camouflage), showing its age...
---
© Olivier Barles 2017
This article was published on Tuesday, May 09 2017; Last modified on Tuesday, May 09 2017