HK Models 1/32 De Havilland Mosquito B Mk IV (FPU) Diorama
By Kent Karlsen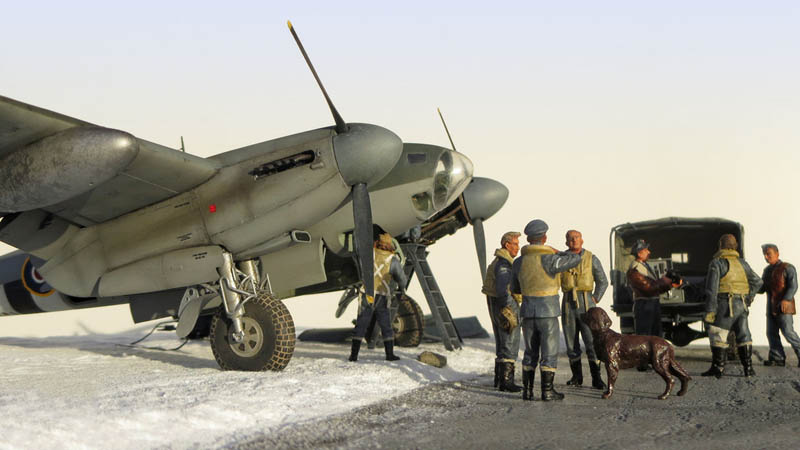 My goal was to depict one of the planes used by the RAF Film Production Unit (FPU). These Mosquito's were used to document some of the daring low level operations, mostly done by 2nd TAF. These camera planes participated in some of the famous operations against German targets, Gestapo Headquartes, Amiens Prison Break etc...
In the beginning these planes were modified, to carry a cine camera mounted in the nose. Later 35 mm handheld cameras were being used and by the summer of 1944 they were fitted with an additional Perspex panel in the nose. This provided more glass for the cameraman, who by now, was moving around the cockpit trying to get footage of the operations.
Diorama: December 1944: Mosquito B Mk IV - DZ414 'O' Orange (FPU) is getting ready for a mission.
Some of the Pilots are discussing todays mission, the squadron dog is present.
An RAAF officer/cameraman, is checking his camera equipment. RAF starter trolley is connected.
Fitters are checking and doing some last minute maintenance on the left Roll-Royce Merlin engine.
A RAF vehicle (Bedford MWD) has stopped, delivering equipment for the plane.
Some additional cameras are loaded for a PR Mosquito.
---
© Kent Karlsen 2017
This article was published on Thursday, April 27 2017; Last modified on Thursday, April 27 2017