Trumpeter 1/32 FM-2 Wildcat
By Luc Janssen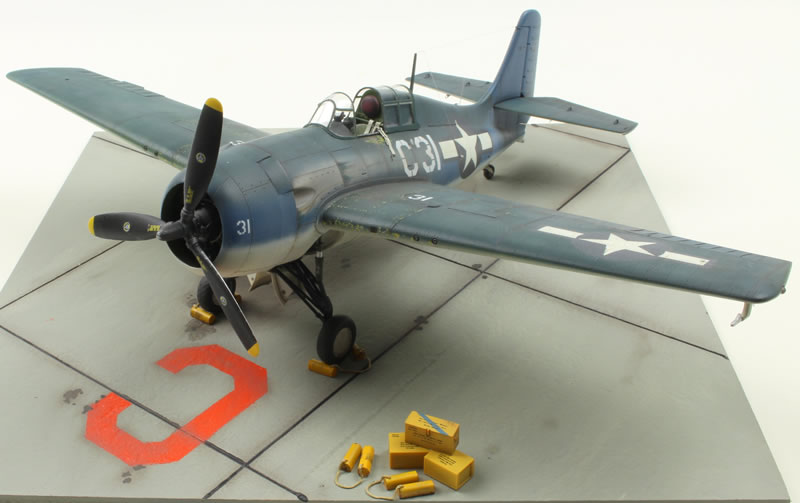 This is the F4F-4 Wildcat from Trumpeter that I converted to a FM-2. The model represents a FM-2 as used for the training of carrier landings on the carrier USS Sable in Lake Michigan the end of 1944/beginning of 1945. These Wildcats were intensively used and rather heavily weathered and worn-off.
Some modifications had to be made: the propeller with hub was adapted, the Pratt & Whitney engine was replaced by a Wright Cyclone engine, the cowling, the cowl flaps and the exhausts were modified, the oil coolers under the wings were deleted and replaced by oil coolers air intakes in the cowling, 2 guns with gun bays were deleted and the vertical stabilizer was enlarged.
For the engine I used the Wright R-1820-G from Vector, but I had to add the ignition harness ring assembly, the pushrods and the intakes for the oil coolers.
The cockpit was detailed and the safety belts were made from lead foil with buckles from RB Productions. The landing gear assembly was given supplementary detail.
The three-color paint schemes of Wildcats were not always the same and lots of WWII – photos show completely different patterns. I used Non-specular Sea Blue, Intermediate Blue and Insignia White and the interiors were painted Interior Green as General Motors used this paint for the interior of their FM-2s.
Weathering was done with pastels and the panel lines were accentuated with color pencils.
References:
Special Mach 1 Grumman Wildcat
Replic No 170
The Internet
PS: for questions or comments go to: lucjanssen32nd.com
---
© Luc Janssen 2016
This article was published on Friday, October 21 2016; Last modified on Friday, October 21 2016