HK Models 1/32 B-25J "Old Ironsides III"
By Kent Karlsen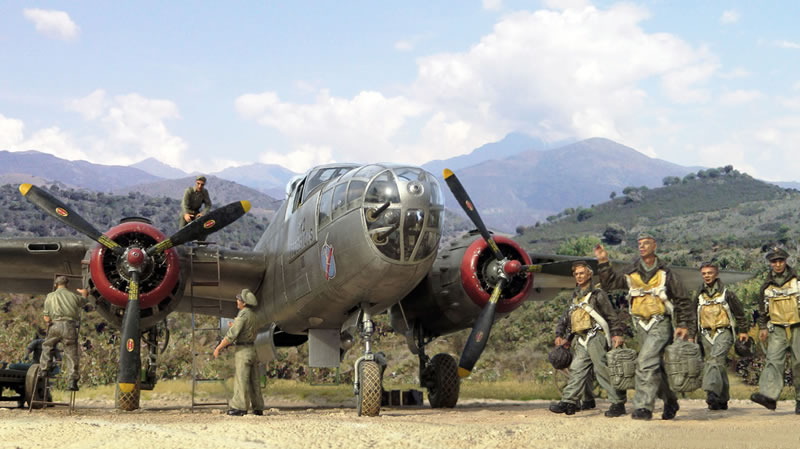 B-25J-2 of 340th Bomb Group 488th Bomb Squadron, "Old Ironsides III" - Serial No 43-27474 (8 R)
'Old Ironsides III' was one of the first J models to arrive to the 340th Bomb Group...a lot of the pilots were wary of the new model, since they were used to the reliability of the C/D models, so Colonel Chapman ordered a flight of 3 J models to demonstrate they are good planes, and when the pilots noticed that they can fly well on one engine... "There was much rejoicing amongst the pilots and combat crews". 'She' flew her first mission on May 16, 1944 (a few days after the 340th bomb group was bombed by the Germans at Alesani, Corsica. This was the air raid that necessitated the need to cover the upper surfaces of the natural metal planes with OD paint... 'Old Ironsides III' survived the war and flew her last mission on April 25. 1945. She flew back to the states where 'she' was eventually scrapped in 1946.
Diorama
The diorama is depicting the USAAF base, Alesani Airfield in Corsica in the late summer of 1944.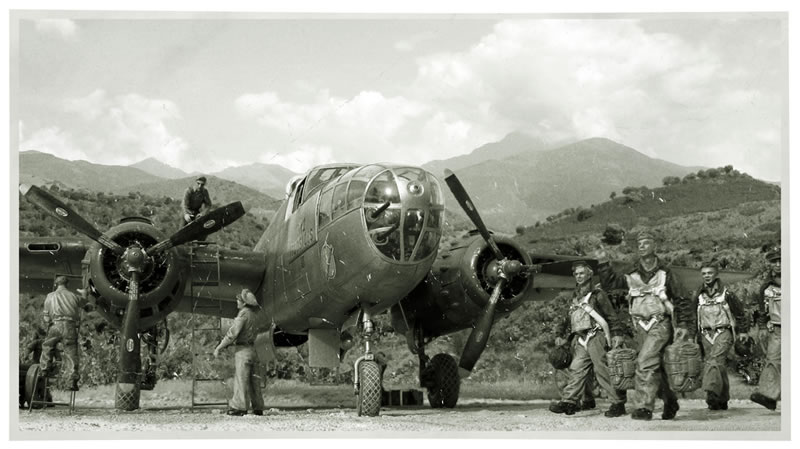 The 6 man crew of 'Old Ironsides III' arrives at their plane for the day's training mission. The ground crew is getting 'her' ready for a training mission, loading 'her' up with 100lb practice bombs from a M5 Bomb trailer, reloading the ammo boxes and doing some minor maintenance on the right engine.
The sign of 340th Bombardment Group is inspired by an actual sign, from the Alesani base and is placed in the background.
To help identify the diorama as the Mediterranean Theater of Operations (MTO) I have made a Corsican farmer who is passing with his hay loaded donkey cart...
The diorama is inspired by the 9 reels of previously unexamined motion picture records, coming to light and published in 2014 by the National Archives in Washington. The footage was made by Lt. Wilbur T. Blume, a Combat Cameraman of the 9th Combat Camera Unit, who made this training film in Corsica starring 'Catch-22' author Joseph Heller. Joseph Heller was assigned to 488th Bomb Squadron and he flew some 60 combat missions during his service at Alesani Airfield. The life/people at the base was his inspiration for Catch-22.
---
Thanks to all the help I had from different sources...
A special thanks to Dominique Taddei (Author of USS Corsica) & Mike Laney, supplying a lot of additional information regarding the USAAF planes based in Corsica.
© Kent Karlsen 2016
This article was published on Thursday, June 23 2016; Last modified on Thursday, June 23 2016