Hasegawa 1/32 McDonnell-Douglas A-4E Skyhawk
By Luc Janssen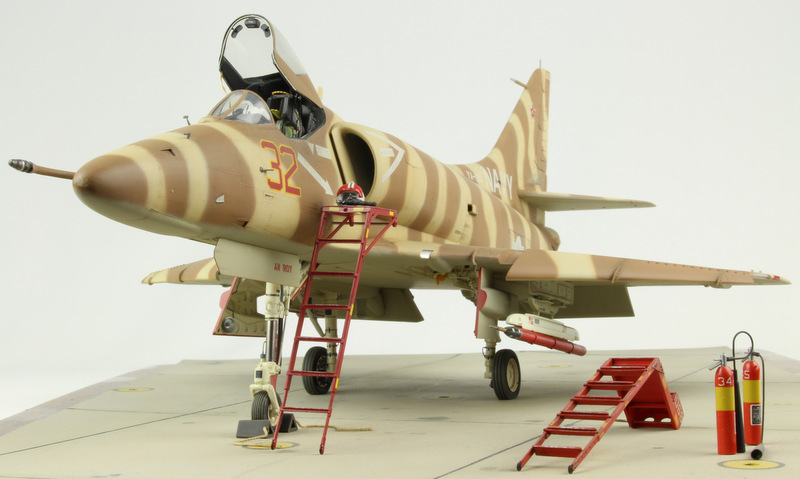 This is a model I built some years ago, but I made new photos recently. The model is based on pictures of NAS Fallon Skyhawks used in the adversary role.
Some supplementary detailing in the cockpit, the wheel wells and the landing gear was done. I built an ACMI-pod and adapted a wing pylon to carry it.
To dress up the diorama, I scratch built two ladders (one for the A-4E and one for TA-4s), two fire extinguishers, the wheel chocks and the pilot's helmet.
The paint job was done with paints from Model Master and for the weathering I used pastels.
References
Squadron/Signal Publications A-4 Skyhawk in Action
Aeroguide McDonnell Douglas Skyhawk
Famous Airplanes of the World – Douglas A-4E/F Skyhawk
Superbase 8 – Fallon
Navy Attack – Spads, Scooters & Whales
Twobobs Aviation Graphics A-4E Top Gun Tinkers Toys
---
© Luc Janssen 2016
This article was published on Saturday, May 21 2016; Last modified on Saturday, May 21 2016