Tamiya 1/32 Aussie Spitfire VIII
By Olivier Barles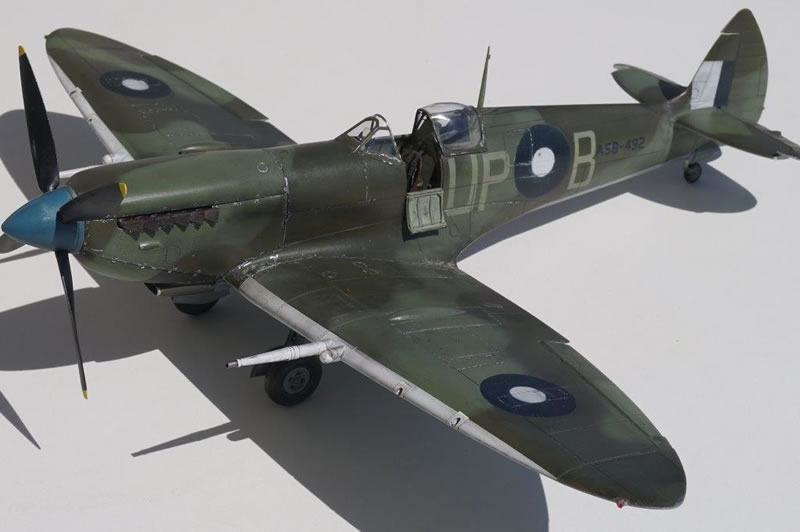 Following the Mk IX of the Free French Air Force I built a few years ago, I decided to go for assembling the two other 1/32 scale Tamiya Spitfires available on the market, the Mk VIII and the Mk16.
For the Mk VIII, the idea was to paint her in Australian markings having in mind to do "something different".
Based on the studies written by Peter Malone and Geoffrey Pentland, I chose a Spit belonging to the RAAF 79th Squadron.
Identification refers to a plane flown by Hugh Kennare (UP-B) and based in Morotai (South Pacific).
I followed Peter Malone's indication for the colors of the code letters and the spinner.
However, as I wanted to really go for "something different", I considered the fact that the RAAF had its own camouflage standards which are poorly documented. Therefore, the original delivery scheme associated to the RAAF guidelines, all that combined with poor logistics and lack of paint materials meant that Spitfires were all sorts of camouflage colors.
Then, I found out that Geoffrey Pentland believes that the early Mk VIIIs the 79th Squadron received were painted in dark green and an unofficial light green - which the squadron dabbled with to see if they could come up with a better camouflage scheme.
This is just I needed to get "my original touch"!
Then I also added the white leading edges, even though it seems that was only applied for a short period of time at the beginning.
So, my Spit VIII should be mainly seen as an interpretation of the Aussie Spits family instead of representing an exact and historical replica.
But having such a green/green scheme on such a sexy plane is really cool...
---
© Olivier Barles 2016
This article was published on Friday, April 08 2016; Last modified on Friday, April 08 2016