Wingnut Wings 1/32 Sopwith Snipe
By Mike Norris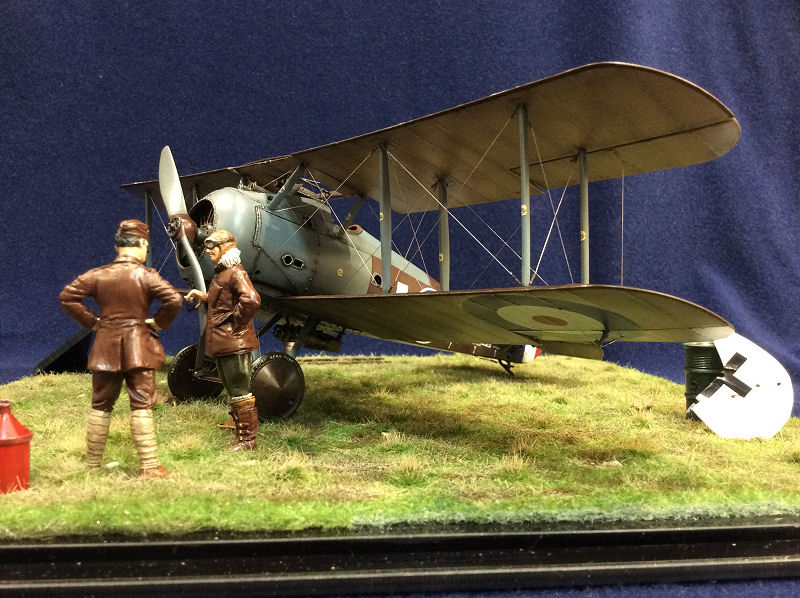 Continuing with my growing collection of WW1 aircraft, here's the latest. It represents the Sopwith Snipe, Serial No: E8069, of 'B' Flight, No.4 Squadron, Australian Flying Corps (AFC) in 1918. It was flown by 2nd Lieutenant Thomas Charles Richmond Baker (12 victories), DFC, MM and bar. He was shot down and killed on the 4th of November 1918, aged 21, just a matter of days before the end of the war. In February 1919, he was posthumously awarded the Distinguished Flying Cross.
Manufacturer: Wingnut Wings
Scale: 1/32
Type: Sopwith Snipe (early)
Paints/Weathering: Tamiya (by brush and Airbrushed), Flory clay washes and AK weathering washes.
Aftermarket: HGW seat belts, Master guns, figures from Kellerkind and Wings cockpit figures, propeller (hand made by Doug Craner), ground accessories from Historex and ground cover from Scenic grass mats (plus stones from my garden).
Rigging: Adjusters for all flying wires (not turnbuckles - made from micro nickel/silver tube and RB motion nuts) with monofilament for the wires (coloured with silver ink pen). All control wires at the tail were micro-tube with GasPatch turnbuckles.
Scratch built: Supports for the guns boresight.
Display case and plaque made by on-line specialists.
---
© Mike Norris 2016
This article was published on Friday, March 25 2016; Last modified on Friday, May 10 2019