Tamiya 1/32 Mistubishi A6M5 Zero
By Luc Janssen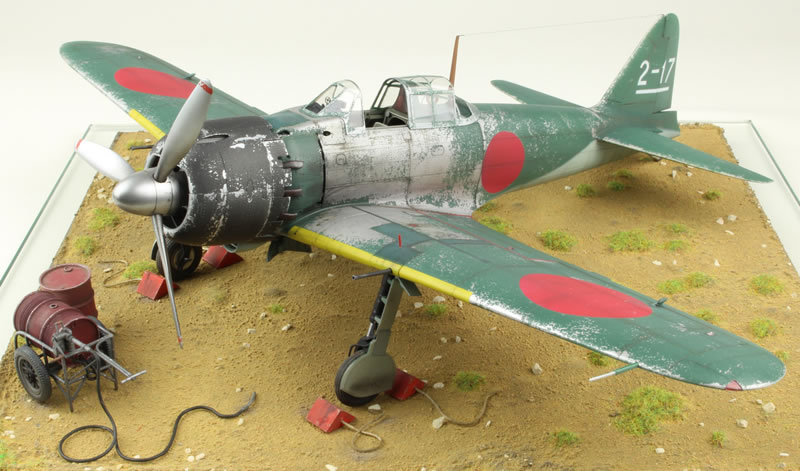 This model was based on photographs of Zeros and other Japanese planes, which were brought together by the Allies after the capitulation. The props of these planes were removed to eliminate further use.
The Tamiya kit is off course super and almost no supplementary detail was needed. I installed the ignition cables to the radial engine en added some wiring in the cockpit.
For the paintwork, I tried to simulate the heavily weathered look and the extremely worn off paint. I used Imperial Japanese Navy Green with some White added to obtain the bleaching effect of the sun for the upper sides and Imperial Japanese Navy Gray for the under sides.
The "pealing off effect" was done with the sponge technique. I simulated some replacement panels on the wings and in front of the windscreen to create some dynamism to the model.
The weathering was done with pastels.
References
Aero Detail 7 - Mitsubishi A6M Zero Fighter
Squadron/signal publications - A6M Zero in action
Famous Airplanes of the World - No 5 + 9
Japanese Cockpit Interiors 1940-1045
The Internet
---
© Luc Janssen 2016
This article was published on Friday, March 18 2016; Last modified on Friday, March 18 2016