Dragon 1/32 P-51D Mustang
By Luc Janssen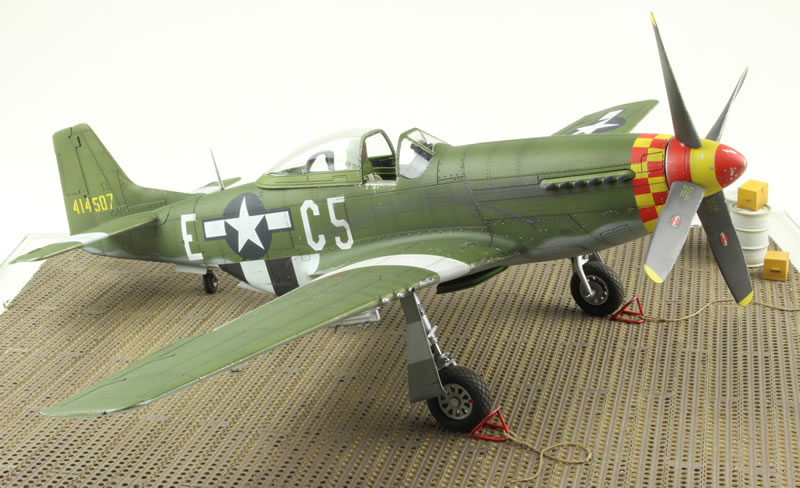 As every serious model builder knows, this Dragon kit has lots of problems. The panel lining and the riveting is heavily overdone, the windshield does not fit correctly, the "sit" of the open canopy is wrong, the rubber tires are too big, etc.
In preparation of building the Tamiya Mustang, I decided to make the Dragon kit first, but only with some minor changes and adaptions. I chose to build the well-known TANGERINE Mustang. With some research, I discovered that this P-51D flew with RAF Green/ Neutral Grey camouflage and had no wire antenna and no external rear-view mirror installed.
I gave some extra detail to the cockpit and to the landing gear adding metal oleo's. I changed the "sit" of the canopy and tried to obtain the best fit for the windshield. Furthermore I remade the sway braces of the pylons, adapted the length of the tail wheel and changed the gun ports.
No extra work was done on the panel lining or the riveting.
In the cockpit I used the superb BarracudaCals (cockpit stencils and placards). The other decals came from the kit and from my spare box. TANGERINE was hand painted on decal sheet.
References
Aero Detail 13 North American P-51D Mustang
Mechanism of Military Aircraft 8 – P-51/P-47
To War With the Yoxford Boys
Squadron/Signal Publications - Walk Around P-51D
Sqaudron/Signal Publications – P-51 Mustang in action
---
© Luc Janssen 2016
This article was published on Saturday, February 06 2016; Last modified on Saturday, February 06 2016