Revell 1/32 RAAF Beaufighter Mk IC
By Kent Karlsen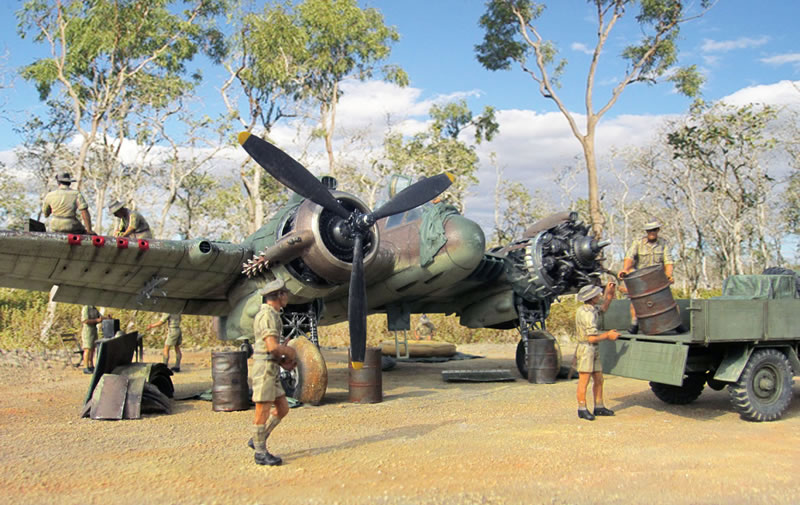 Diorama: Bristol Beaufighter Mk 1C - No. 30 Squadron RAAF (A19-15 'O') - Australia
I tried to Catch the Atmosphere of Ward's Airstrip, Port Moresby 1942, in the Diorama.
Model Kit: 1/32 Revell Bristol Beaufighter with a lot of scratchbuilding.
My good old Revell 1/32 (1975?) was taken apart and had a complete overhaul, inside and out. The project took around a year or so, reworking all of the model until I was happy with it: Complete interior rebuild, wheel bays, gun bays & removeable panels. Sanding and rescribing of panel lines & rivetting.
Diorama: British-built Bristol Beaufighter undergoing maintenance at Port Moresby, Ward's Airfield, during the Kokoda Trail Campaign, Papua New Guinea, November-December 1942.
From early 1941 the roles of the Beaufighter diversified as it was adapted to carry out anti-shipping strikes and ground-attack missions, and in these capacities gained its fearsome reputation. In the Asia-Pacific theatre the Beaufighter was nicknamed "Whispering Death" because of its quiet engines and heavy firepower. The origin of this nickname is generally attributed to Japanese troops, but there are also accounts that it began with British pilots in Burma.
Royal Australian Air Force 30. Squadron Beaufighters attacked Japanese boats, airstrips, and supply dumps in Lae, on Goodenough Island, Buna, and Gona. The unit also played a major part in supporting army operations between Buna, Kokoda, and Sanananda by regularly attacking supply and communication lines. By November 30. Squadron had begun a series of strafing missions against Japanese infantry retreating from Kokoda towards the north coast. The squadron's Beaufighters maintained an armed reconnaissance searching for troops escaping the bombing offensives on Buna, Soputa, and Gona.
They also made a series of successful strafing attack on grounded aircraft at the Lae aerodrome.
The Kokoda Trail fighting was some of the most desperate and vicious encountered by Australian troops in the Second World War. Victory on the Kokoda Trail ensured that Allied bases in Northern Australia, vital in the coming counter-offensive against the Japanese, would not be seriously threatened by Japanese air attacks.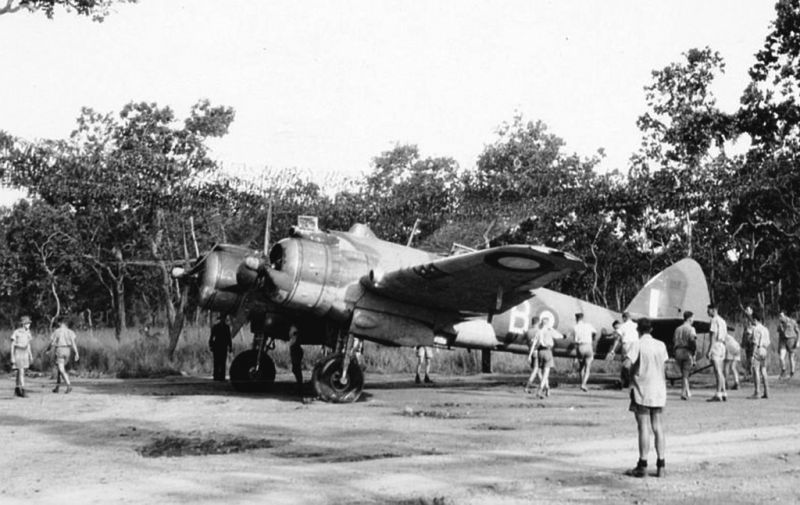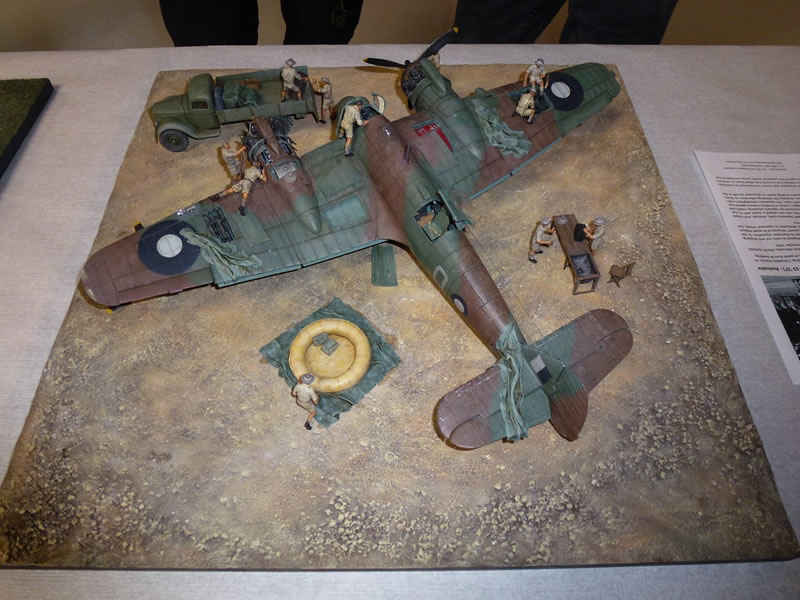 The Build
This was one of my first modelling projects in 30 years. My skills weren't up-to-date in any way and watching all of the amazing work done in different modelling forums, I thought "I have so much to catch up with and to learn". But I didn't want to get a new kit, the danger of destroying it because of my lack of skills were too obvious. That's why I chose my good old Beaufighter. Well this would do no harm, if it ended up as a disaster!
The kit was taken apart and sanded down, cutting open gunbays, fuel tank and rubber dinghy compartments. New panel lines were rescribed, using Tamiya scribing tool. Rivetting was done by hand, one by one, as I didn't have any rivetting tools back then.
The wheel bays were rebuild from scratch, as the old kit ones are completely wrong. Wheel bay doors were detailed. I also wanted to display the Hispano 20 mm cannons, so this compartment was also build and detailed.
There's almost nothing usable in the kit interior, all of it had to be build from scratch, instrument panel, radio equipment in the navigators station in the back. The large 20 mm Hispano cannon ammunition magazines and a lot of other details were build. Including lead wiring.
Only Aftermarket parts used were RB Productions 1/32 Sutton Harness, Quickboost 'Porcupine' exhausts, Ultracast .303 wing-mouted Browning .30 cal guns. The gun bays were detailed with ammo boxes etc.
I could have used the very nice Vectors Hercules engines, but they were a little too expensive to me. So I went on detailing the kit ones, with Lead wires, building the very special manifold and cooling ring of the Hercules engines. Oil tanks were added and also the cowling ring 'flaps' were replaced. Wing mounted RAF Universal Bomb Carriers were build from scratch.
My airbrushing skills are non existent, but i did try some 'salt' weathering. What a mess! But I'm quite happy with the result. Markings and lettering were painted, using masks and printed serial numbers. Further weathering was done with my own mix of dark oil washes.
For the diorama, the Ford 2000 of Revell was converted into a Australian build Ford, cab converted and larger truck wheels. The rubber dinghy was made from Magic Sculp, as were all of the tarps. Wooden workbench with the half oil drum a wooden chair, ladder and pallets.
This started out as a project, with no expectations, as to the result. The object was to get to know a lot of new modelling techniques, getting into the modelling work again, and it ended up, being a tour de force of 'trial and error'.
---
The Finished Diorama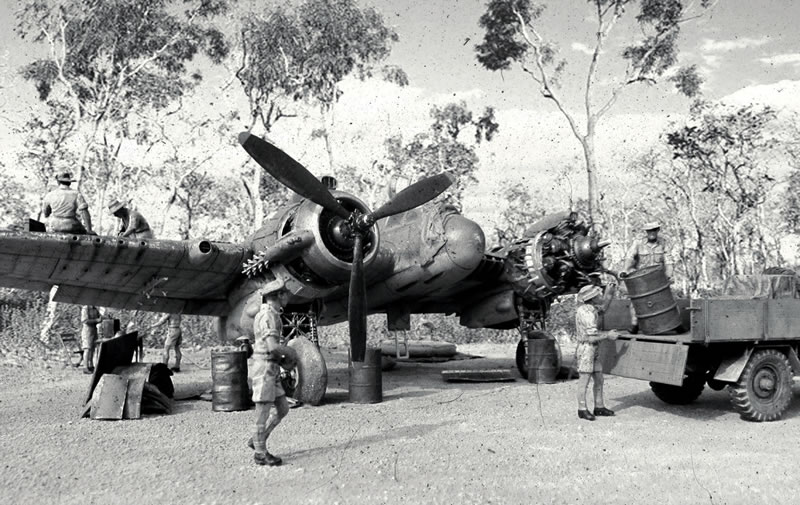 ---
© Kent Karlsen 2016
This article was published on Monday, January 25 2016; Last modified on Saturday, November 26 2016