Telford 2015 Show Report
By Iain Ogilvie
Well, we're back from another bumper global modelling mecca that is Scale Modelword, Telford - probably the World's largest showcase of scale modelling!
Our Stand
Large Scale Planes was represented by its 32nd Scale Special Interest Group (32SIG) sub group with a slightly smaller stand this year at 12' long. In previous years we've had up to 24' - but such is the growing popularity of the event that space is at an absolute premium - even with added space this year. Stand themes this year were 'Battle of Britain' and 'Aerobatics' with suitable models on display, along with a variety of other Large Scale aviation subjects. It has to be said that the star item on the stand was the Tigercat project being built by Peter at Airscale - modeller meets artist, meets jeweler - you get the idea!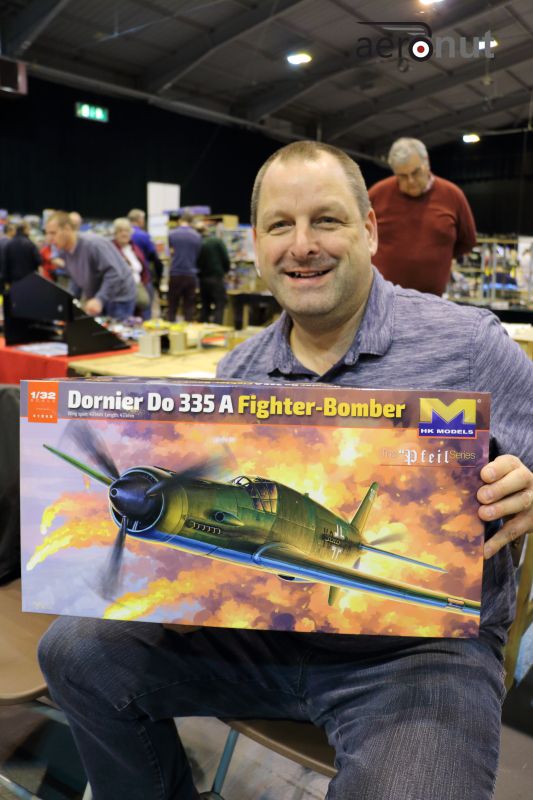 Also a shout out to Dave (Phartycr0c) for winning a prize from HK Models - the latest release of their Dornier 335 - for his superb B-25 model from the HK kit.
On the Saturday afternoon Neil Yan from HK Models came and sat behind the stand and had a fun chat and brainstorming session with members of the group. A really genuine guy who's listening to us modellers and wants to make their models as accurate as possible. Exciting times!
See separate article for our LSPs in the Competition Gallery.
A big thank you to everyone that helped with and visited the stand over the weekend - another very successful year.
---
A Sense of Scale
A few images for those that have never attended the Telford show - and these photos exclude the separate halls for the Kit Swap and Competition areas - it really is a huge event!

---
---
Competition
This continues to grow - both in the number of entries (last year we had a total of 890 entries and this year 1069!)and in the standards presented. Along with John Wilkes (another LSP member) we have the privileged to act as judges and that gives us a good opportunity to obtain photos of the Competition entries whilst the area is closed to the public. Photos of the LSP competition entries will be posted as a separate article in the next few days.
Airfix
No big announcements in Large Scale Planes from Airfix - but they did have the new 'car door' Typhoon on display.
---
Airscale
Our very own Peter Castle was providing 'instrumental' support to modellers over the weekend with his stand. Pictured are Peter - and Radleigh Bushell with typical 'camera in hand' pose! No news that we're aware of - but hoping Peter will turn his eye to the forthcoming HK Lancaster.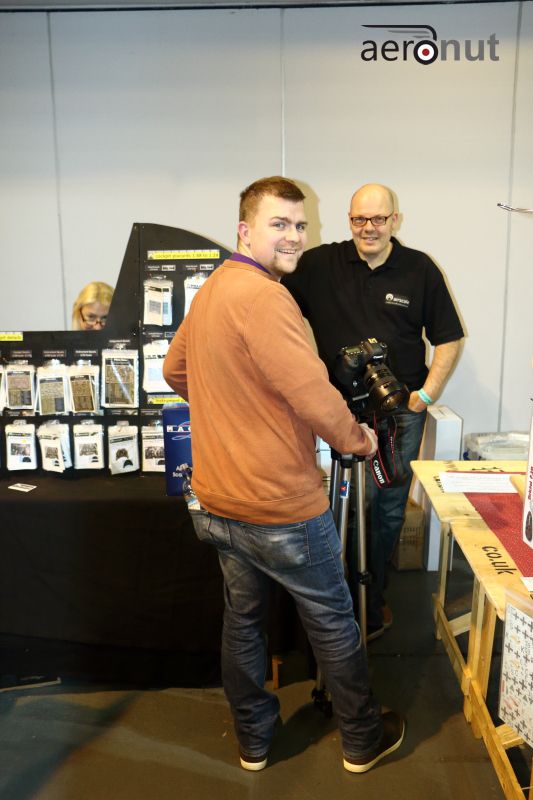 Aviattic
Great to finally meet Richard Andrews - with his stunning and innovative range of products catering for the Great War enthusiast
New items are a complete Pfalz Dr.I resin kit - and the start of their new 'Legends' series: monograph, figure and airframe decals a specific pilot from the period - in the first release: Frank Luke.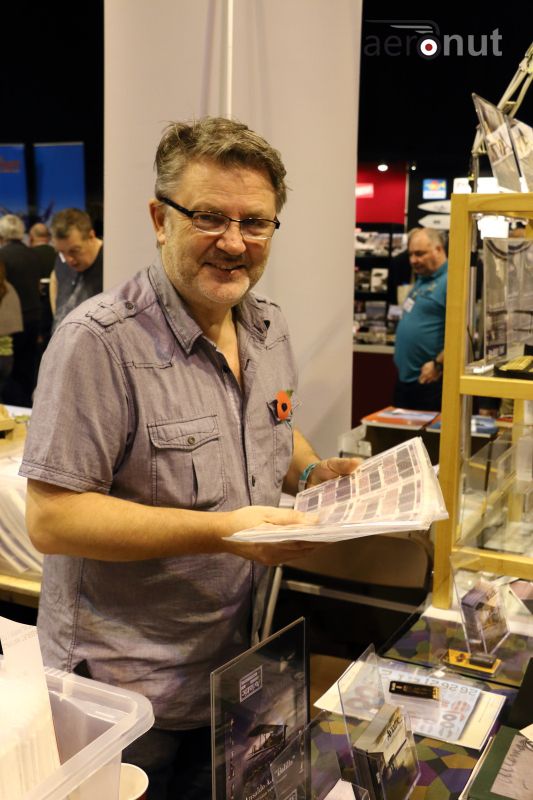 ---
Barracuda
Great to catch up with Roy Sutherland on his Barracuda stand - with news of imminently new ammunition feeds for the Tamiya Mossie (the kit one's don't contain any ammunition) and more items for this subject to come. Watch this space!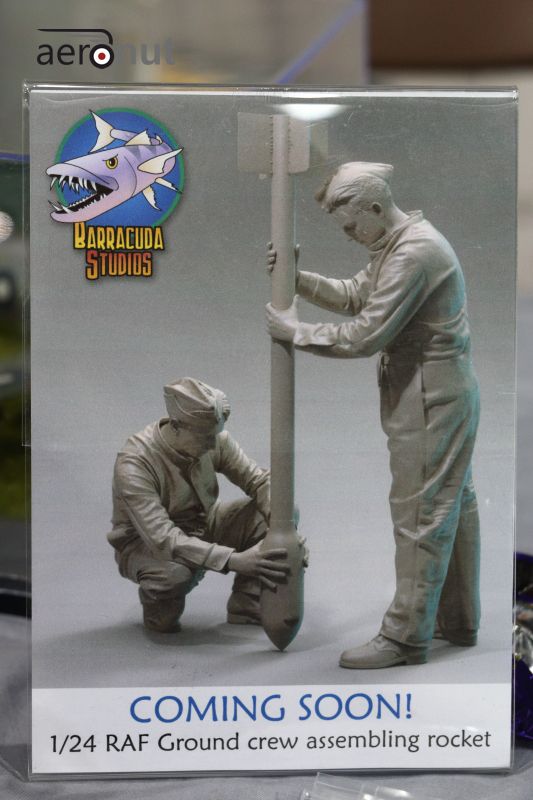 ---
Also on the Barracuda stand were a set of decals for the Italian Me 109G from Chris Busbridge.
---
Fantasy Printshop
Ray Horwell is the man behind decal printers 'Fantasy Printshop', providers of screen printed decals to the model world - and a whole lot more! Fantasy Printshop have recently released two sheets for the Hawker Hunter to complement the AIRfile publications which we've reviewed here - FPAF 32-001 Single Seat aircraft and FPAF 32-002 for the two seat versions.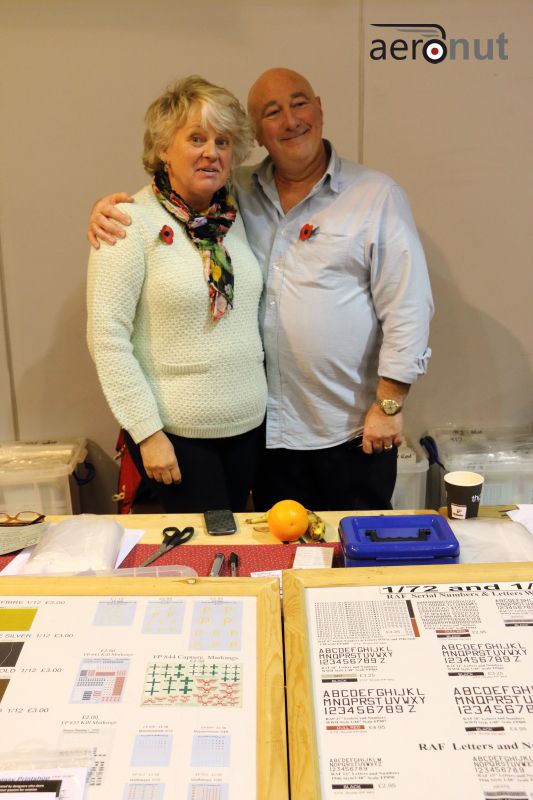 ---
Gas Patch
The Gas Patch stand had much to make the Great War modeller happy - and it was good to catch up with owner Costas Patsaros. We'll let the photos do the talking...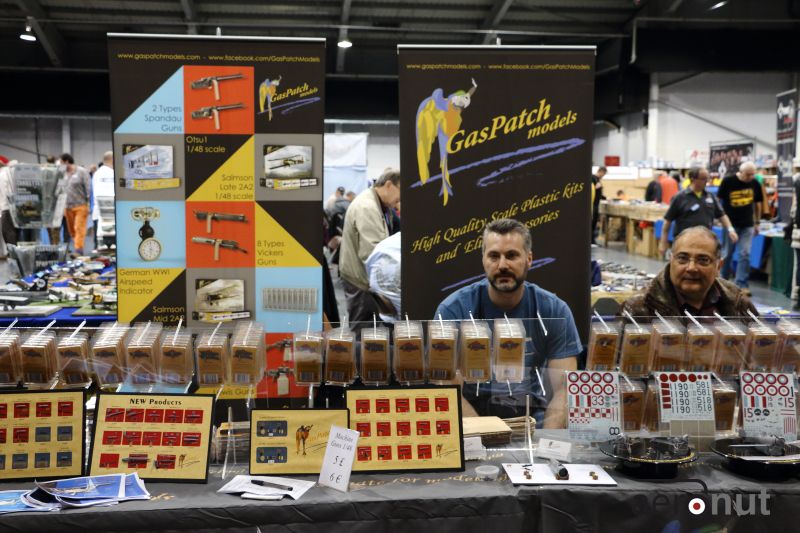 ---
HK Models
HK Models had their own stand this year in conjunction with our friends over at Large Scale Modeller. On display were a variety of subjects from the range - the prototype Lancaster looked very imposing and, I for one, can't wait for it to be released!
We were delighted to have HK Models Neil Yan join us on our stand for a period on Saturday afternoon - talking models and ideas for future subjects. Great fun...
In addition to the recently announce Spey and F-4B versions of the Phantom, Neil has indicated they plan to do the P-51B and are looking at possible Cold War subjects for the future. Watch this space!
Neil was last spotted heading off to a number of UK museums - exciting possibilities!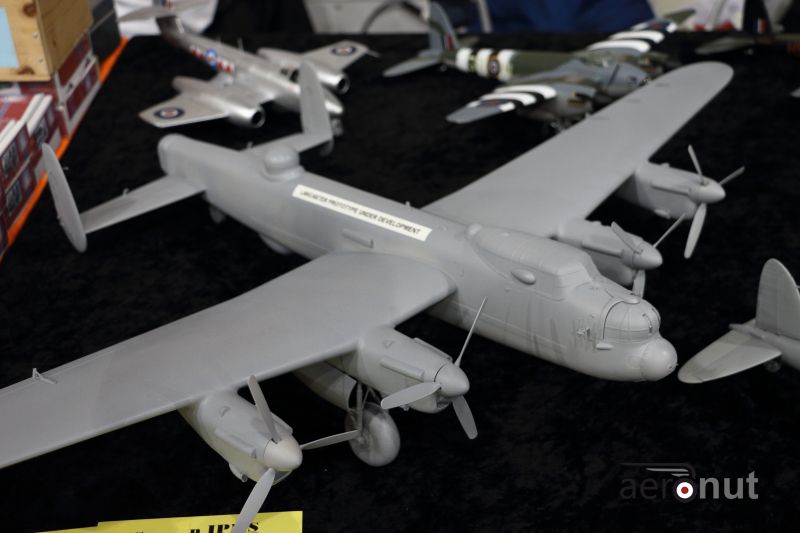 ---
HpH Models
BiG news in more ways than one - HpH announced a forthcoming 1:32 Me 323 Gigant (expect late 2016 at around €900) and Helldiver. In addition to built up examples from their range they also had a prototype for their forthcoming C-47/DC-3 kits on display - again, expected at some point in 2016. They've also hinted at another long-term project - a Constellation!
---
Iconicair
Iconicair had their new Seafang on display - Graham expects this to be available in the next couple of weeks at a very reasonable £85. Next year will see the Attacker added to the range - really can't wait for that one!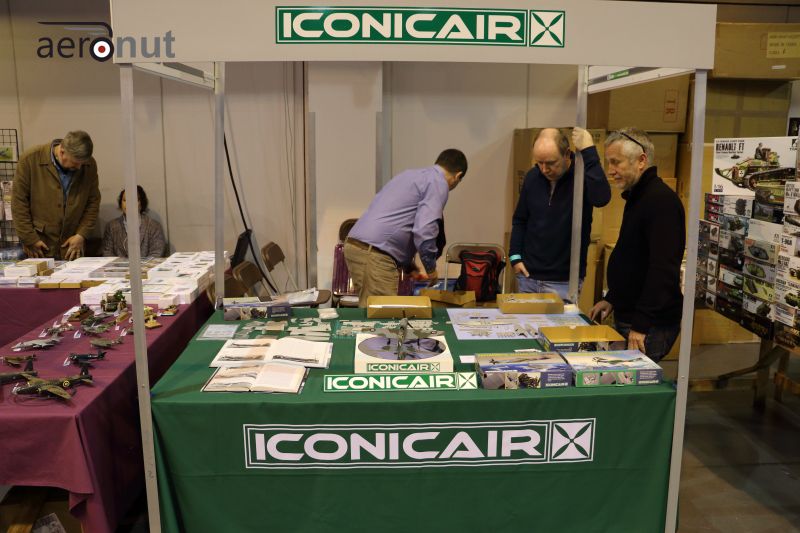 ---
Kinetic
An update of the previously released 1:24 P-47D 'Bubbletop', this kit has a new fuselage and canopy for the 'Razorback' version. On display on the Hannants stand we were told to expect this in the next few weeks.
---
Kits World
Great to meet Nigel Franklyn on his Kits World stand - with three new releases in 1:32 scale for the forthcoming HK Models Lancaster - due next year.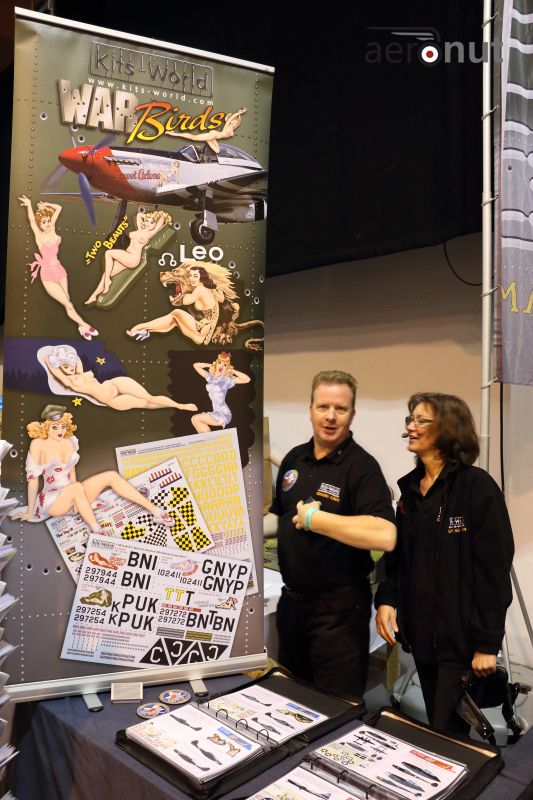 Kits World KW132049 Avro Lancaster General Markings (including comprehensive stencilling RAF Roundels & Walkways)RRP £10.20
---
Sheet contains:
RAF ROUNDEL AND VERTICAL STABIZER MARKINGS
WALK AFT OF THIS LINE in red and black lettering
WALK FORWARD OF THIS LINE in red and black lettering
DINGHY RELEASE PULL HARD EMERGENCY ONLY black lettering
TRESTLE HERE red lettering
TANK NO1 FUEL 100 OCTANE ONLY red lettering
FIT JACKING PADS HERE red lettering
PULL FIRST AID red lettering
FIRE ACCESS (for engine nacelles)
RIB LETTERING red lettering
Extra red and black lines
KW132051 Avro Lancaster B.III 'G for George' ARG W4783' RRP £10.20
---
KW132056 Lancaster B.III (Special) 617 Dambuster Squadron Wing Commander Guy Gibson May 1943 RRP £10.20
---
MDC
Great to see Bob from MDC wandering around the show - un-encombered by having to manage a retail stand. Look out for rocket sets for the Tamiya Mozzie coming soon!
---
www.modeldesignconstruction.co.uk
Merit
The 1:18th Harrier was on display in built form - albeit boxed up - on the Pocketbond stand (UK Importers)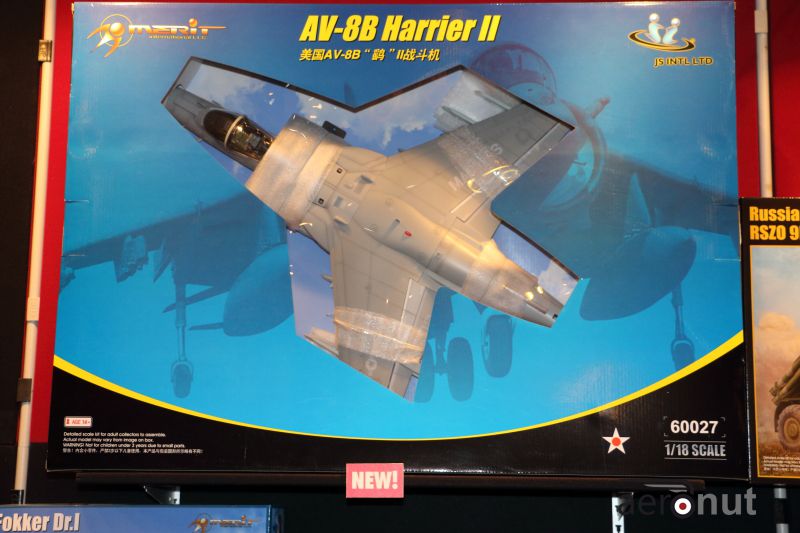 ---
Pheon Decals
No new sets from Pheon for Telford - expect decals at some point for the Sopwith Camel in 1:32.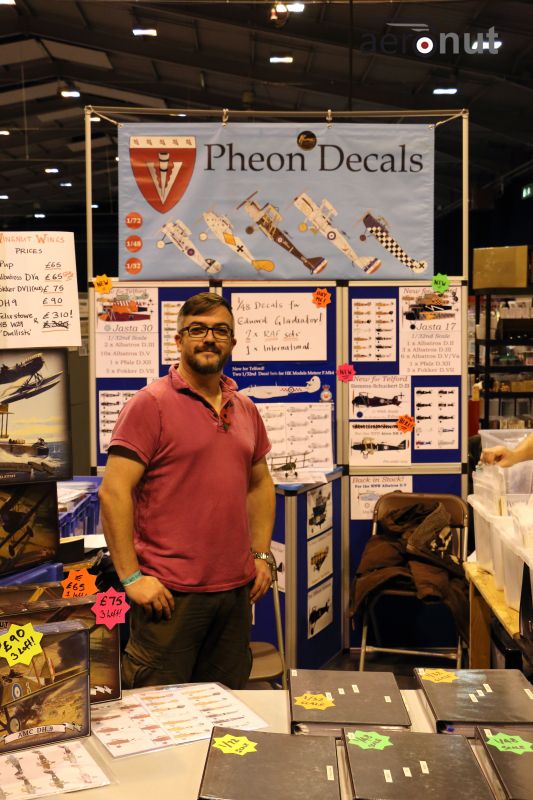 ---
RB Productions
Radu Brinzan had his usual stand selling his superb range of etch, decals and accessories - with latest news being a new photo-etch set of Radiator screens for the new Tamiya Mozzie - better detailed an finer replacements for the kit parts
RB-P32040 - 1/32 DeHavilland Mosquito Radiators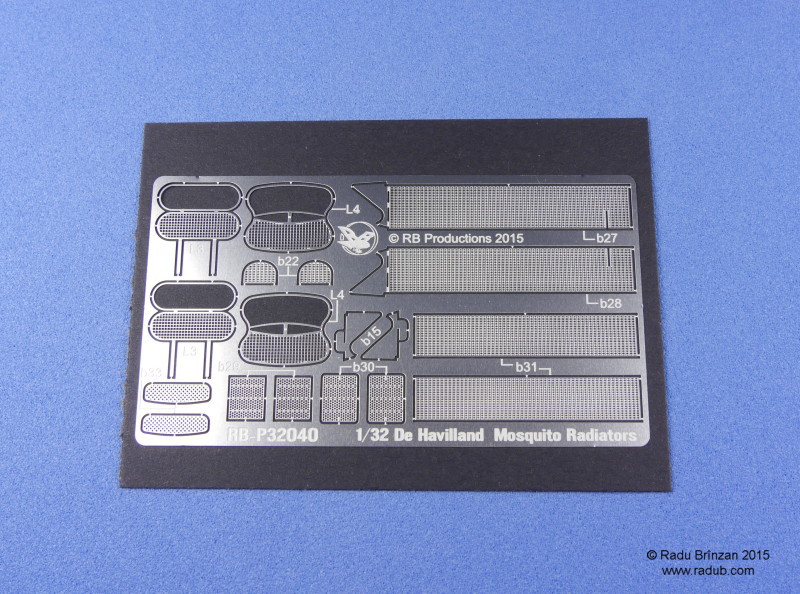 ---
RB-D32020 - 1/32 Romanian Messerschmitt Bf 109 G-6 Part 2
---
In addition we're informed he completely sold out of RB-M32006 - Masking strips - curved - a really useful product for masking those spiral spinners - a restock is on the way.
Revell
Only one new large scale release on display on the Revell stand - the UH-72A Lacota.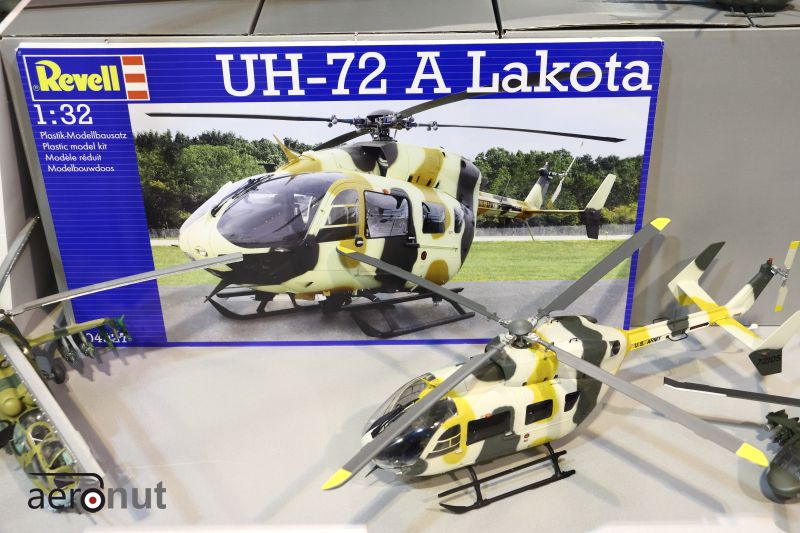 ---
Wings Cockpit Figures
This is a stunning, and growing, range of figures. We managed to catch owner David Allen and hope to bring you an article on the range in the near future.
---
Zoukei-Mura
It's become a tradition in last few years for Zoukei-Mura to have a large and impressive stand at Telford. This year was no exception - with built up models from their range and test shots of forthcoming kits - in this instance their new Do 335 kit. Banners advertising their new range of Fw 190s were on display - but I failed to confirm likely timescales.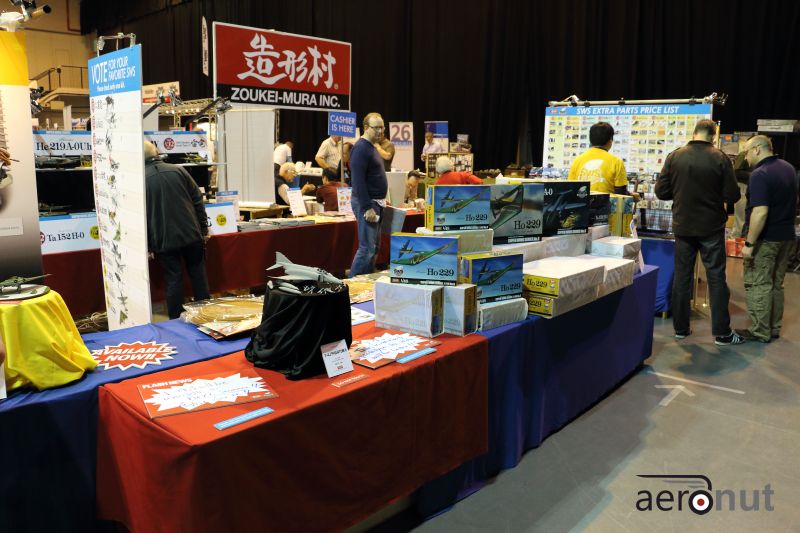 ---
Another Year Over...
So another year done and dusted - we look forward to doing it all again next here and hopefully meeting more friends we haven't met yet. Wherever you are on the globe, if you're thinking of coming next year you are guaranteed a warm welcome.
See you all next year!
© Iain Ogilvie 2015
This article was published on Wednesday, November 11 2015; Last modified on Monday, December 07 2015