HK Models 1/32 B-25 "Big Bad Bonnie"
By Andrew Thorne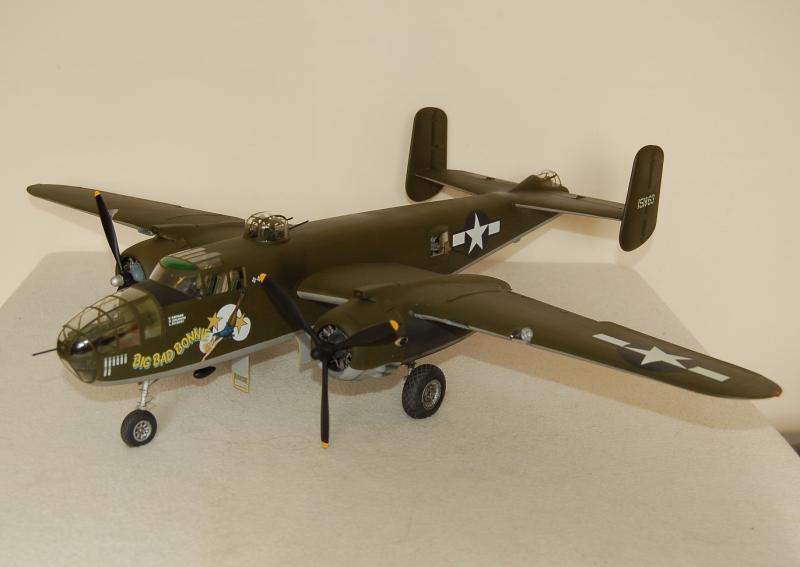 Big Bad Bonnie was the first B-25 I ever saw flying. Back in the early '80s at Stapleford in Essex. When Kitsworld produced the decals I new I had to build one.
This one came up on eBay for a very good price so I snapped it up. The build went OK but it was one of those models where I had bad luck along the way. First of all I accidentally poked the seats out after the model was already finished. This meant I had to get them back in through the turret opening , then the dog got hold of the nose glazing and cracked it. Luckily my friend had a spare one, then one of the scratchbuilt exhausts fell into the rear of the engine, which meant I had to pull the engine off to get it back out.
The model has been modified to represent the TB-25, so I had to remove some exhaust stubs form the cowlings and make a new exhaust. The hardest part was scratchbuilding the new taller squarer carb intakes.
It is fitted with SAC metal legs. I had seen and heard bad things about these but mine were perfect. The nose weight is the Profimodeller one but I needed to add more to it so be aware! Wheels are the superb Brassin one. Prop blades are loon models and of course the decals from Kitsworld.
I'm very please it's done, but I'm starting to wish I had gone for a 1/48 one. It's a bit large and I don't really know where to put it!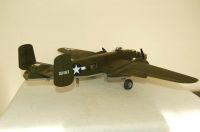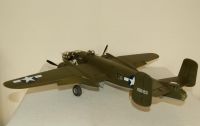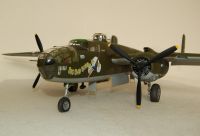 ---
© Andrew Thorne 2015
This article was published on Sunday, March 08 2015; Last modified on Monday, February 22 2016