Revell 1/32 Regia Aeronautica Bf 109G-6
By Nicolas Renoult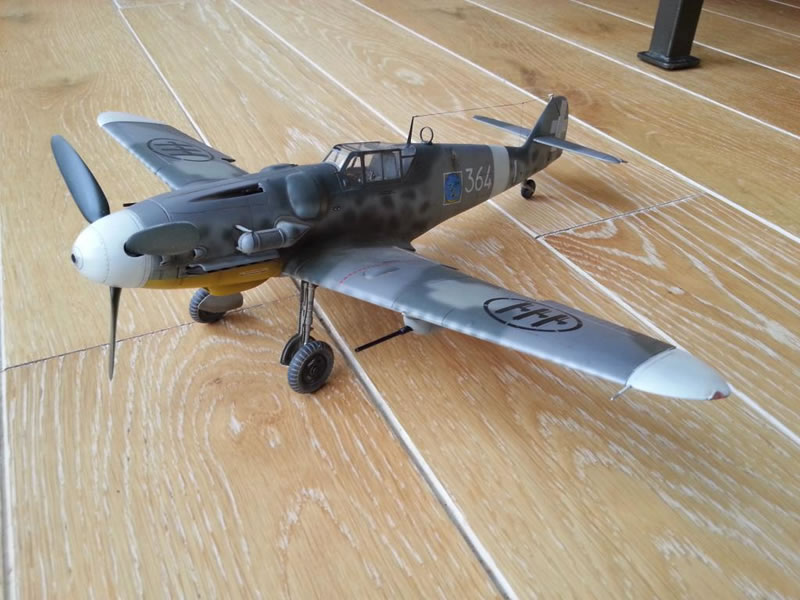 This was my "summer build", as for summer holidays I wanted to build a simple model, almost OOB, fast and simple. I have already unsprued most of the parts while on a journey and thought it would be very fast to then glue and paint it. But it wasn't so fast. I firstly very enjoyed the new Revell kit, as the OOB details are pretty good in the cockpit and wheel bays. But when i started to build it, I understood why there was so much critics about the strange engineering. Yes it's strange and sometimes quite silly (multiple parts gear legs, joints to be filled only a few millimeters from a panel line, and so on...). Filling and sanding the engine cowling was not easy and very time consuming.
I've not built it 100% OOB as I've used the Alley Cat correction resin set. I was not impressed by this set and I think it is under their usual quality. I may have been unlucky and maybe I've got a bad set, but it was not good. Some parts were useless because they were oversized, some were badly cast (soft and undefined, a real paint to clean up), and a number of bubbles. But some parts were used (radiator cowling, exhausts, spinner and propeller, cowling bulges) and the set was not very expensive, so I'm not that upset.
I've also used a Quickboost Bf 109G gun set. The gondolas and the dust filter come from a Hasegawa kit. I know as a trop 109 there should be the umbrella holder brackets but I think i was a bit lazy (and I'm not sure they were fitted on all tropical 109).
So in my opinion it's a good kit, nicely detailed and more accurate than the Hasegawa kit in some areas, but at the moment I still prefer the Hasegawa 109 as it is simpler and faster to build. I will soon try a Trumpeter 109, I'm going to see if it is better.
The decals are from the Chris Busbridge Regia Aeronautica Bf 109 set. They are very nicely printed and the film is thin and easy to move. I will have no worries to use any other decals printed by Fantasy Printshop.
---
© Nicolas Renoult 2014
This article was published on Wednesday, September 17 2014; Last modified on Wednesday, September 17 2014