HpH 1/32 De Havilland Hornet
By Bryan Logan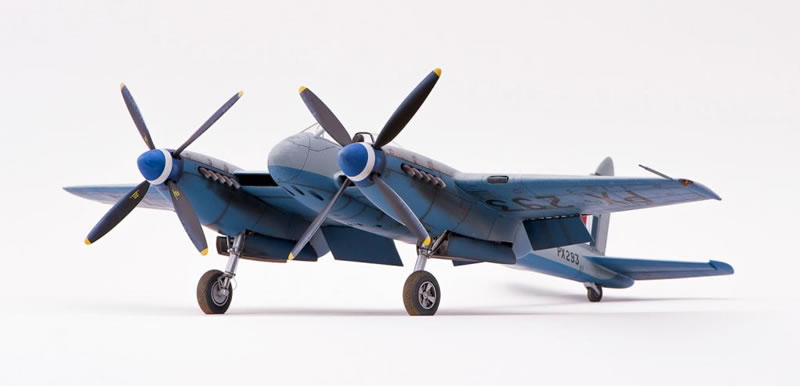 I ordered this kit as soon as it was available, and just finished it today.
I read on a couple of forums that the nose on the aircraft was imperfectly shaped. I had a hard time seeing exactly what the flaws were, and there is surprisingly little reference material available on the Hornet, particularly in terms of good drawings that include the nose. Add to that a dose of laziness, and I left the kit nose "as-is" with no attempt to change it. In most ways this kit is darn good, even brilliant in some places, but there were a few areas that were pretty rough. In particular, I get the feeling that HPH ran out of money when mastering the landing gear parts. The small, secondary landing gear struts are so far off in size to fit where intended, I cannot believe that HPH even made more than a token effort in designing them. Basically, these parts have to be made from scratch. On the plus, the kit includes some outstanding PE and machined metal parts, and the quality of the resin casting in general is as good as I have seen. In particular they did an outstanding job with subtle surface details like panel lines and rivets.
If anyone is on the fence about buying this kit (it is very expensive) keep in mind that it is an all resin/limited production kit. The parts need major clean-up, and every seam will need to be filled and sanded pretty extensively. None of this is a surprise, I just want to make sure no one expects a Tamiya/Hasegawa style kit if they plunk down the money for this model.
I tried to limit my weathering on the build, which is sometimes an issue for me. Since the Hornet served largely in peacetime, I figured it would be "kept up" better than your average WWII RAF fighter. Like I said though, good photographs of actual Hornets are hard to find. I have a book on the aircraft, but it largely has distant somewhat mediocre B/W photos that don't provide a lot of information useful from a modelling perspective.
All in all, I enjoyed the build and am satisfied with the result. Paint was Mr Color, and the large markings were painted on with homemade masks.
---
© Bryan Logan 2014
This article was published on Monday, May 12 2014; Last modified on Monday, May 12 2014