Zoukei-Mura 1/32 Ta 152
By Nicolas Renoult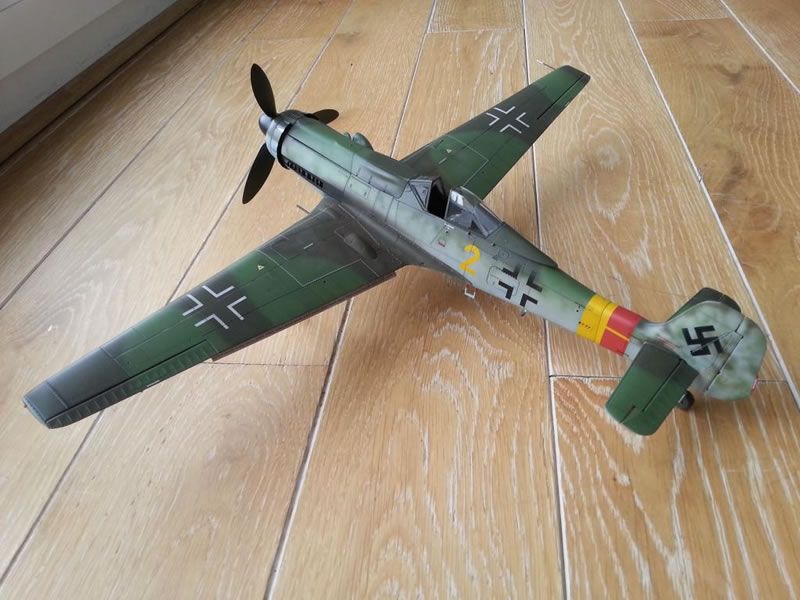 Almost OOB... I've used the MDC resin seat and brass guns, HGW belts and an EagleCals decals sheet.
It was quite pleasant to build. Some little fitting issues because of the lot of parts, including for the wings. But I corrected it with some Mr Surfacer (to reduce gaps) then cleaned with a cotton bud dipped in Mr color thinner.
Given the very nice engine provided in the kit, I couldn't make my mind if yes or not I have to glue the engine panels. So I let them unglued, so the fit is not always perfect (they move each time I move the plane) but they hold by themselves.
The paint used for the camo are gunze aqueous hobby color, RLM82, RLM76 and RLM81 with a few drop of brown (I don't remember which brown...but anyway it's only a very few drops). It was then weathered with Mig washes and pigments.
All markings (except stencils, obviously) were painted with custom paint masks, that I made myself with my new Silhouette Portrait cutter. It's a very handy tool, and not very expensive for all the service that it could bring to the modeller. And once the program is done (German crosses, swastikas, numbers...) I can resize the markings for any further aircraft with the same markings.
---
© Nicolas Renoult 2014
This article was published on Thursday, April 03 2014; Last modified on Thursday, April 03 2014