IMCTH 1/32 P-51D Mustang Fine Structure
By John F Smith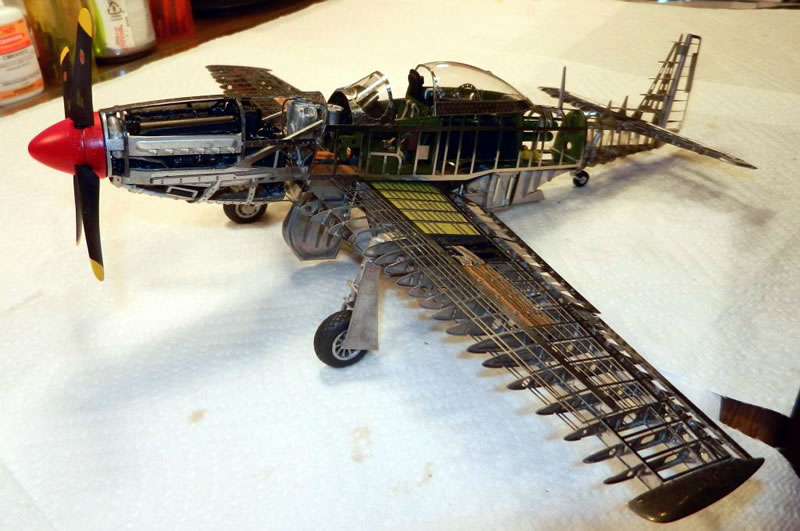 This is one of the "skeleton kits" that I'm sure most of you have heard about. The kit is made of almost entirely Photo Etch parts and white metal parts. For construction, CA is the rule and debonder is how you fix what you have screwed up.
So here are the Vital Statistics on this kit:
Manufacturer: IMCTH
Availability: hlj.com (Hobby Link Japan is the only online source that I know of for this kit)
Scale: 1/32
Detail: It actually compares pretty favorably with the Tamiya kit of the same scale in terms of detail and parts fit. It's a really well engineered kit, albeit using an unusual group of materials to us in the plastic model world.
Instructions: Difficult. Sheets of plans which show a nominal construction sequence in exploded drawing format. They are nice in that they show how it should look when that step is complete, but there is no verbal guidance along the way.
PROS: You will finish a real "show stopper" with this model.... There is NOTHING out there that is even remotely like this. And you'll be proud of your accomplishment.
CONS: Primarily Cost HLJ currently has it listed for 30,000 Yen which is a bit over $300.00 US. The quality of the parts is impeccable so that helps some, but it's a big outlay for a kit any way you look at it.
Extra Parts used: A Few extra pieces of decals and resin from the Barracudacal set. Outstanding stuff and it really help my Mustang look her best.
Paints used: Pretty evenly matched use for Tamiya, Vallejo Model Air & Model Color for both spraying and brushwork.
Total Hours Invested: Somewhere between 80 and 100.
Personally, I loved mine every step of the way. You quickly get an appreciation for how exacting the engineering standards are in this kit when you see how parts must line up for the correct fit. And, don't ignore those cues...if you do, they will come back to bite you in the end. Luckily it's just PE and White metal so it can be taken apart easily with CA debonder, and cleaned for rework.
A couple of tips I would suggest:
Use mostly fast CA for assembly and use it sparingly. You don't need a lot to get a good hold.
Study and follow the diagrams completely until you are certain that you understand the step. I've had to do some reworks which seemed obvious to me after the fact, which I should have studied most closely when I was doing the original build.
I think most of you will be wanting to paint some of the internals like the cockpit and fuel tanks to make some of the detail "pop"... That's all well and good and I approve completely... But, save yourself some outrage and indignation here. Get yourself a good self-etching metal primer to use before your color coat. I recommend the Rustoleum or Krylon products since they are equally easy to use and give good results. Using a hobby primer on these metals will do nothing for you... Your only reward will be peeling paint.
I already own the IMCTH Zero Type 21 kit (1/32) and am very enthusiastic about building it. I've just started the build log for it in the Anything But Injection GB section of the forum. I will also soon be beginning the 1/32 Tamiya Zero Type 21 model which will be displayed alongside the "skeleton" Zero, so watch for that WIP build log.
They are going to be issuing a 1/32 Bf 109 F-4 in the next 30-60 days. I already have mine pre-ordered with hlj.com and plan to build the Hasegawa "Priller" version as the companion piece.
So, here are the photos of portions of the build and the final reveal.
---
© John F Smith 2014
This article was published on Saturday, January 25 2014; Last modified on Saturday, January 25 2014