Hasegawa 1/32 F6F-5 Hellcat
By Olivier Barles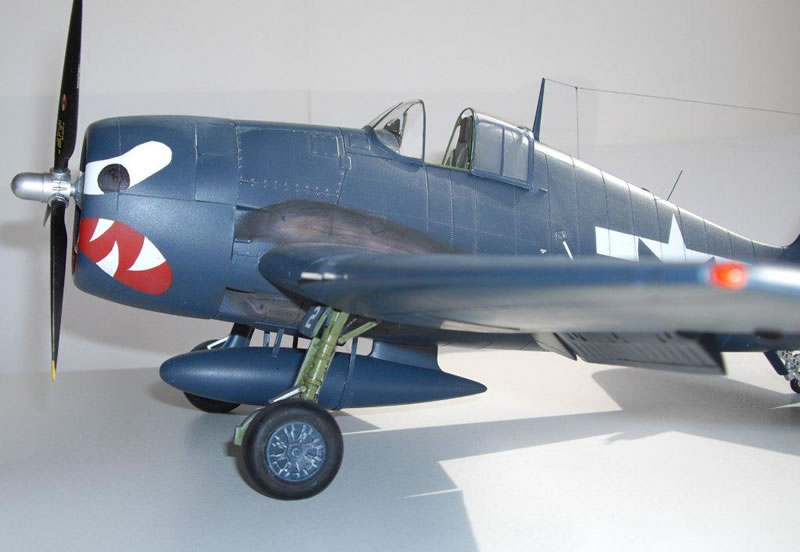 Here are a few pictures of my recently completed 1/32 scale Hasegawa Grumman F6F-5 Hellcat.
I also have the box of the Trumpeter interpretation, but this one has a back that does not look sharp enough and that according to me, "disfigures" the general aspect of this plane.
As being not sure on how correcting that, I decided to go first with the Hasegawa model that was in my storage room for 25 years or so (!) but that seemed to have a more accurate shape.
But going for it somehow obliged me to do some extra work for approaching the actual modelling standards.
Amazingly, this model has wings with raised rived and engraved lines and panels, but the fuselage has only raised lines and rivets. My challenge was then to engrave the lines separating the fuselage section but keeping the raised lines of rivets around.
As a matter of fact, it's easy to see on many Hellcat pictures that rivets were actually slightly raised up from the surface and that the paint on their top was obviously quickly erased... This is what I tried to reproduce on my model.
Besides, I did a few improvements such as vacu-forming the sliding part of the canopy to keep it open in a realistic manner, making a few scratch built parts for the cockpit and adding the brake cables on the landing gear.
I finished by painting the national marks and the attractive VF 27 cat mouth...
---
© Olivier Barles 2014
This article was published on Thursday, January 23 2014; Last modified on Tuesday, April 26 2016