Revell 1/32 Bf 109G-6, 70 Squadriglia, 23° Gruppo, "Black 4"
By Mike Offutt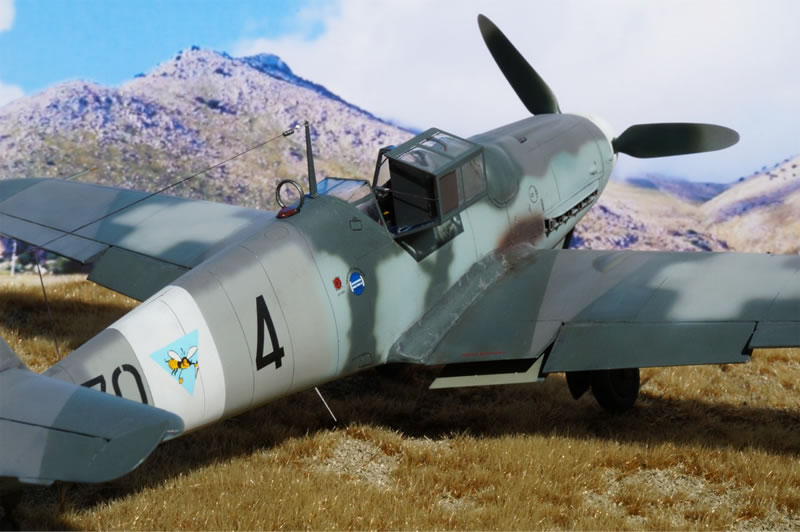 Here's the latest off the bench, part of a Group Build/Review on this kit at LSM, the new 1/32 Revell Bf 109G-6. I've got mixed feelings on the kit, after writing a review on it and spending the last several weeks building it I feel we've become pretty well acquainted. So, in some areas a step ahead of Hasegawa, in some areas a step back. The multi-variant design makes for a more challnging build than Hasegawa which is very straight-forward in it's engineering and assembly. Beyond that some areas come up short, most notably the Beule. Most of the areas are relatively minor gripes but when you've got a brand new kit you kind of go in with the expectation that it's going to look at what the competition did wrong and "build a better mousetrap". To Revell's credit they did address a couple of the shape/length issues that Hasegawa got wrong. From my perspective though these were areas that were not real noticeable and really didn't detract a lot from the Hasegawa kit. That's my opinion only though, I know for some people these issues are more important. Now if Revell didn't have any other issues I think that it would be the clear winner but it's going to require some aftermarket to get it up to speed just like the Hasegawa kit needs. I know price is a consideration for some people, I live in Japan and get the Hasegawa kit in the $30-35 range so it's really not an issue for me, works out about the same to mail order a Revell kit from the US or buy a Hasegawa retail here. I'll confess that when it come to assembly I'm an indifferent modeler, I'm not going to take a crap, limited run kit and turn into a gem like some people have the ability to. So in the end, due to ease of assembly I think I'll stick my Hasegawa kits, although I'll build at least one more Revell with the new Alley Cat correction set. Whichever one you choose you'll have a pretty solid start for a good looking G-6. The BarracudaCast wheels are beautiful, the kit wheels are actually quite good but Roy Sutherland was kind enough to provide some review samples so I elected to use them.
Modifications:
Spinner: EagleParts
Exhausts: Master Details
Wheels: BarracudaCast
Sand filter: 21st CT
Propeller blades: Hasegawa
MG 151 gondolas: Hasegawa
Beule: Hasegawa
MG 131: Quickboost
Gunsight: Quickboost
Joystick: Quickboost
MG 151 barrels: Finemolds (brass)
Pitot tube: Finemolds (brass)
Seatbelts: HGW
Decals: Eagle Strike 32039 "Augsburg Flyers V"
Paint: Mr. Color
The aircraft is done as an aircraft of 70 Squadriglia, 23° Gruppo, operating from Cereveteri-Roma in August of 1943.
---
© Mike Offutt 2013
This article was published on Friday, October 11 2013; Last modified on Friday, October 11 2013