Ultracast | 54016: 1/32 Luftwaffe Fighter Pilot Mid-Late War
Reviewed by Floyd S. Werner, Jr.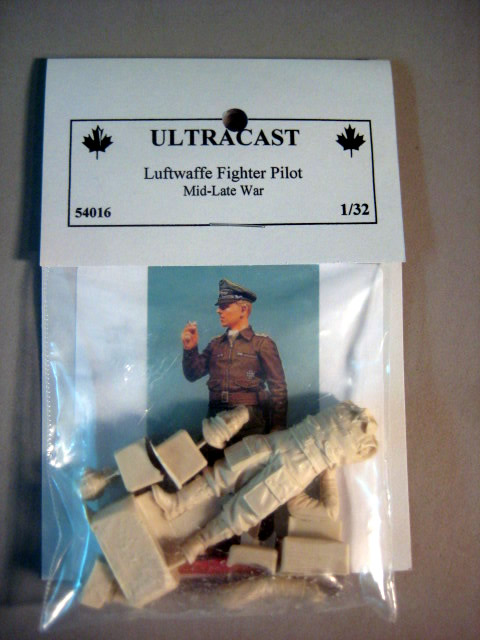 How can you go wrong with a figure sculpted by Mike Good? You can't. Mike Good is the premier figure sculptor in the world in my opinion. Every figure he does is perfectly posed in a realistic stance, but the facial expressions and proportions are impeccable and absolutely flawless.
---
It comes as no surprise that I really enjoy Luftwaffe aircraft and the pilots that flew them. This figure represents a mid to late war pilot with flying pants and a leather jacket while smoking a cigarette. It is broken down into six perfectly cast pieces. All the pieces have positive locking attachment points. With all figures the key is the face. This figure is perfectly arrogant and cocky. You can feel it in its sculpting. There are two heads included in this set, one with a service cap and the other with a flight helmet. Either way you can't go wrong, but the one with the service cap is just beautiful carving. The body is impressive in the molding and detail. The arms all lock into place with the cigarette nicely molded between the fingers. A holster is also included for the left hip.
A perfectly posed and proportioned figure with a natural stance along with an arrogant look makes this the perfect Luftwaffe figure. Ultracast keeps going from strength to strength with all their products. This figure is representative of the quality of Ultracast. You can't go wrong. If you haven't tried to paint figures these are perfect examples to practice on.
---
Highly recommended.
You can get your figure by contacting Ultracast at www.ultracast.ca. There is a 9.95 CDN shipping applied worldwide or at your local hobby shop or online retailer.
Direct Link to Item: http://www.ultracast.ca/products/54/016/default.htm.
© Floyd S. Werner, Jr. 2016
This review was published on Friday, September 02 2016; Last modified on Friday, September 02 2016